My Quest for a Gold-Toned Women's Watch: Casio LA670WGA Review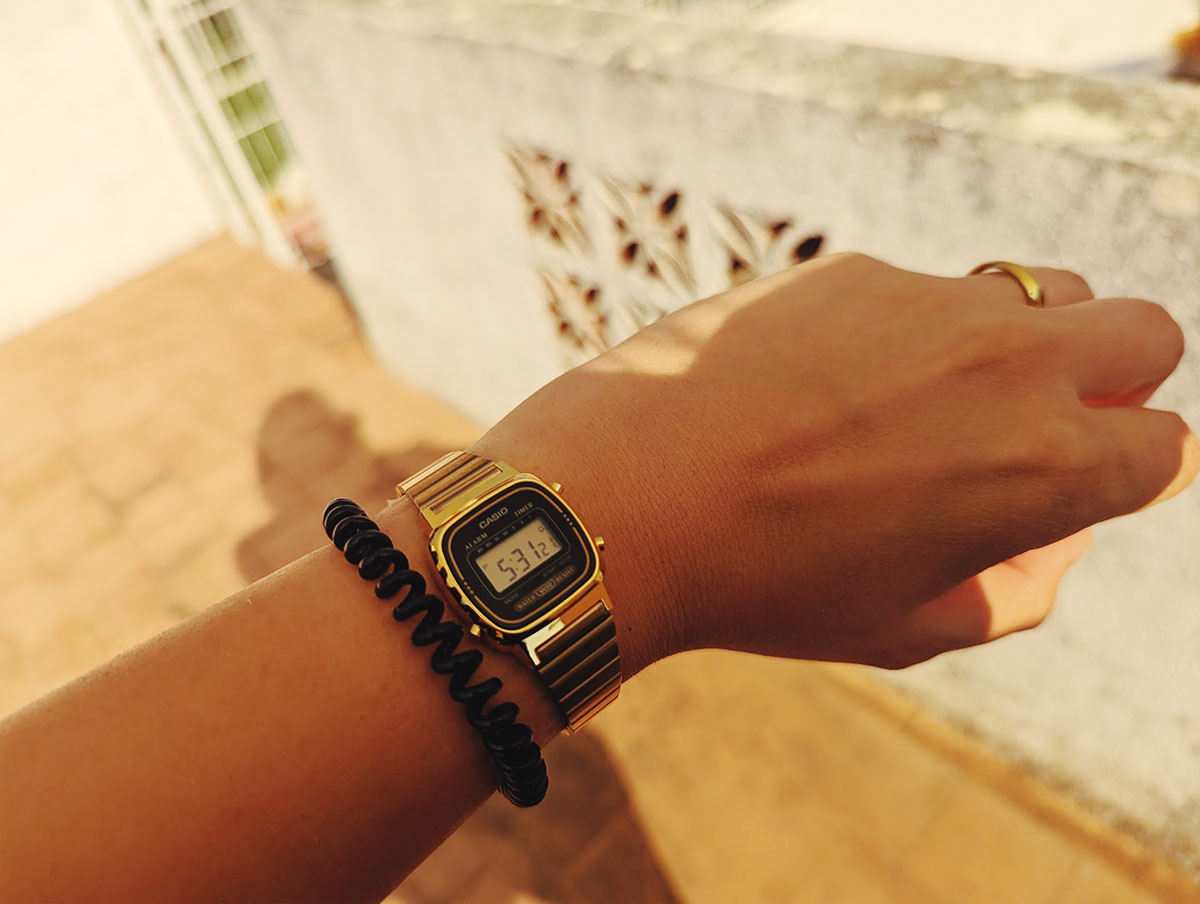 I just looked up the price of my Casio LA670WGA (I have the LA670WGA-1/LA670WGA-1DF version in the US, and I hate you guys, I am so jealous. I paid legit double or triple the current listing price (as I'm writing this) for this exact watch, no extra bells and whistles.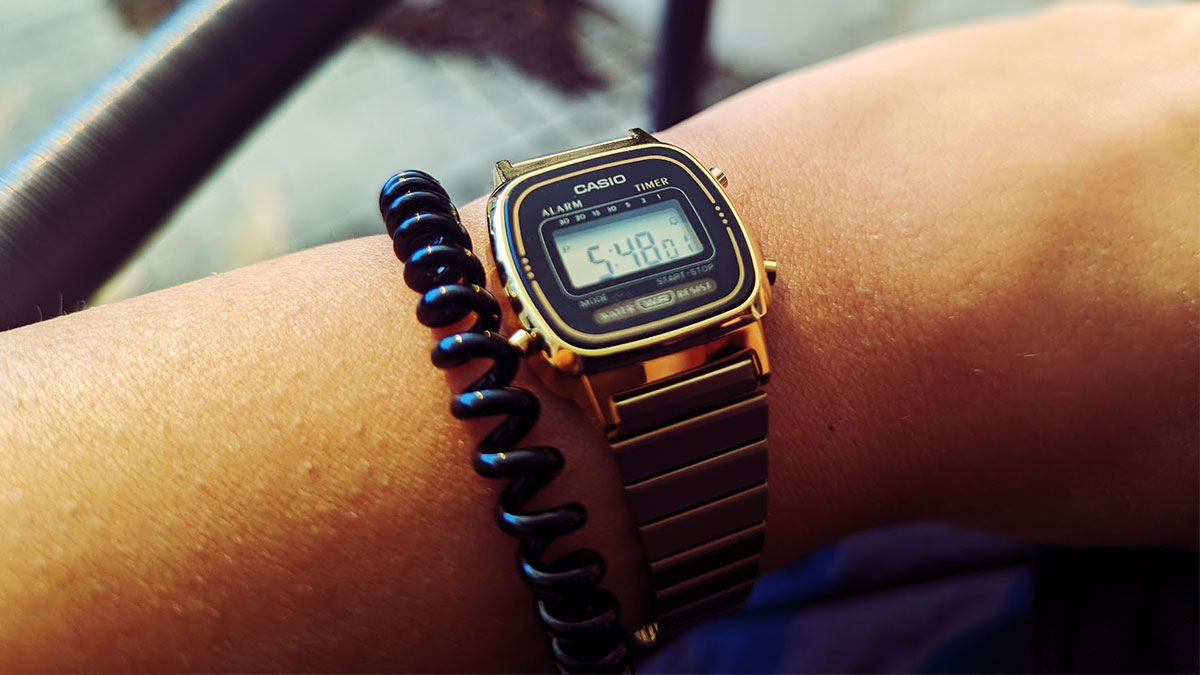 Anyways, to say you guys seem to have ridiculously good pricing on this Casio (and likely almost all other Casio watches) in comparison to where I live (I currently live in Portugal and have to buy from Amazon.es/Amazon Spain), I can't.
I would buy every women's Casio I was interested immediately if I travelled to the States for these prices. They are so worth it!
Okay enough of that! Time to talk about what I like and don't like about the Casio LA670WGA.
First off, it's slim pickings out there for me. I don't do well with analogue watches, I really take a long time to "translate" traditional clocks into a time my brain can understand.
Heck, having moved to Europe, my brain has really, really badly fucked up 24 hour time, (multiple times, to the detriment of my husband's sleep since I once woke him an entire hour early because of a mix up).
All this to say, I pretty much need a digital clock.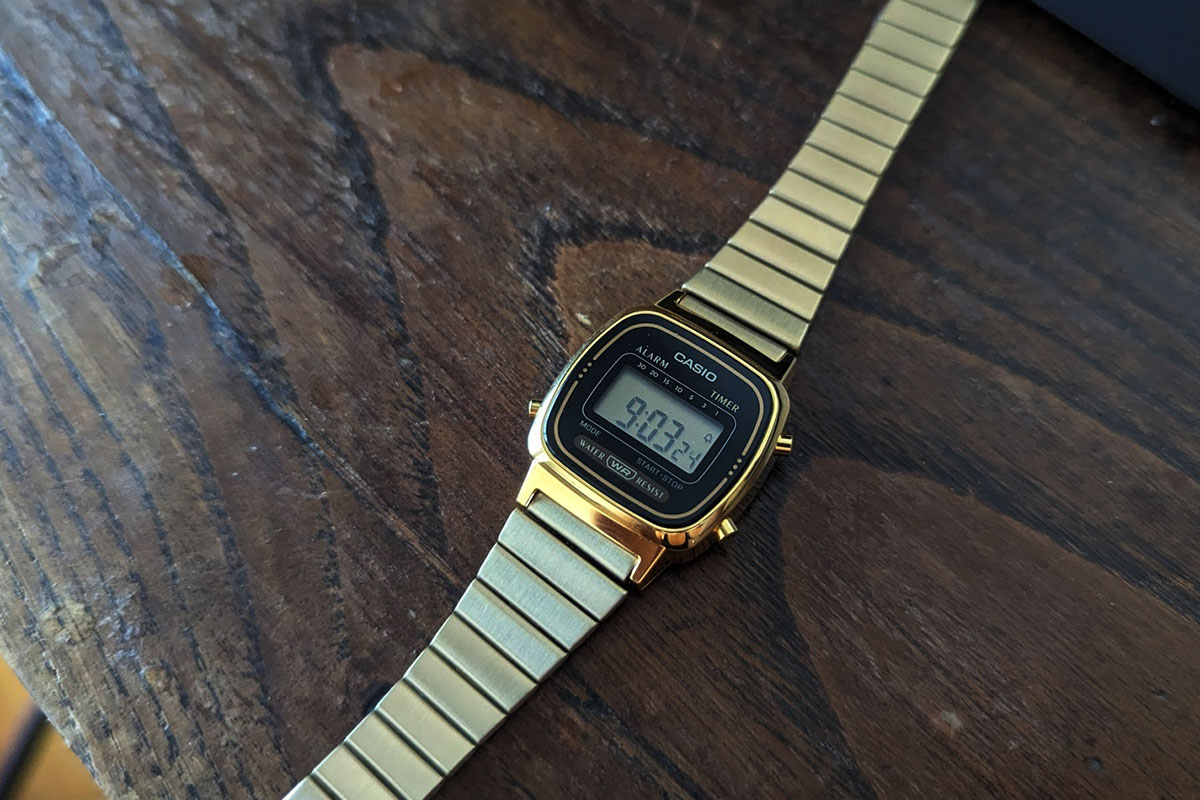 And since I've gotten a proper tan, every cool toned metal I try to wear looks ridiculously weird on me? Sadly, this includes my engagement ring because I got that in white gold.
But I bought a new gold band wedding ring and that's what I'm sporting right now. So I wanted a watch - gold toned, didn't have to be gold because I have other priorities that are more important - to match.
I literally cannot explain to you how frustrated it makes me that there aren't more options out there for women's watches that are gold toned, look like women's watches (i.e. have a small face and dial, and maybe even (because I actually use this feature religiously) have an hourly chime action going on.
It doesn't give me a lot of options, and so I ended up with this Casio not necessarily because I thought "This will be a wonderful watch!" (especially for what I paid for it), but out of sheer desperation because it was one of the only watches (in stock!) that actually hit all my criteria.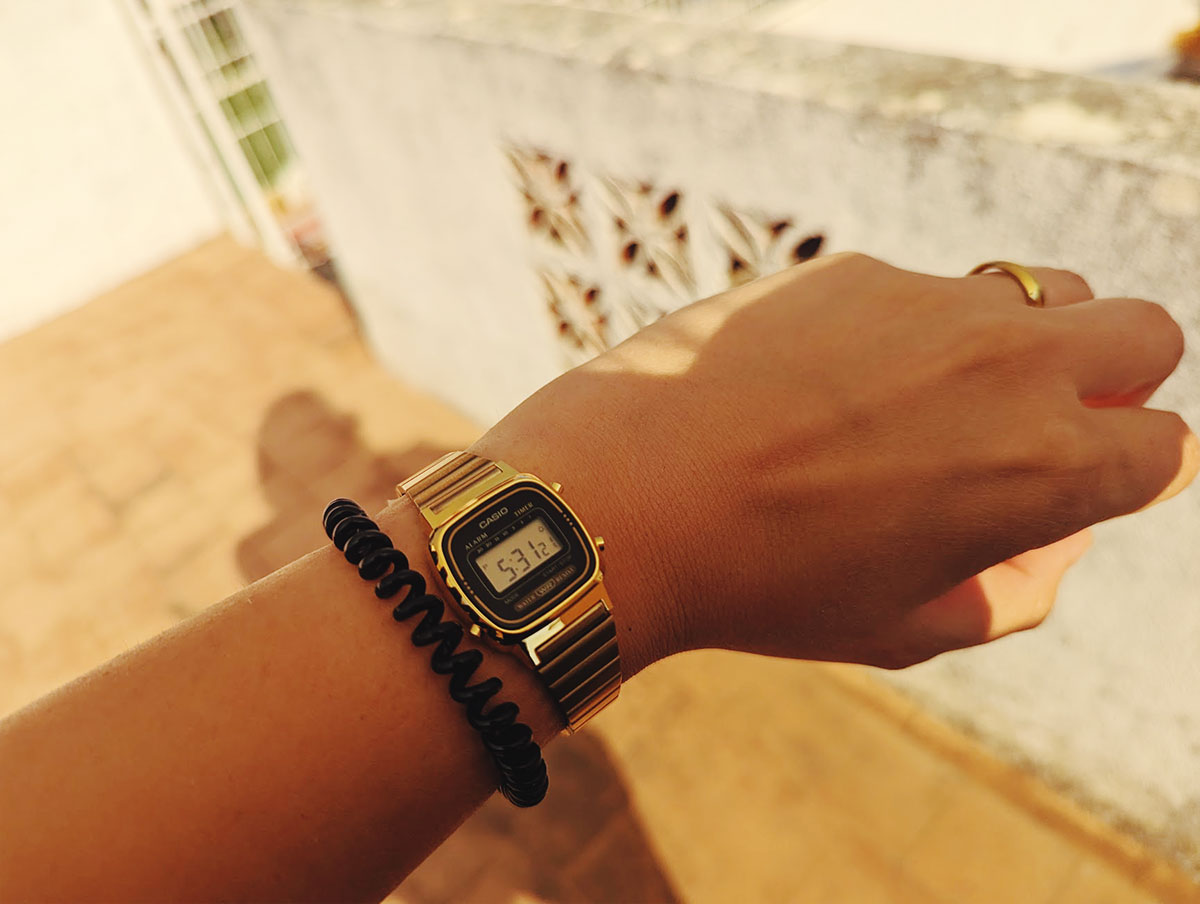 How's it been? It's pretty, it's kinda cheap looking in person. It's got a strap that goes on quite easily and holds firmly into place. Not bad in terms of comfort, can wear it while I type (some watches I absolutely cannot).
Wouldn't replace the strap on it because it's good enough looking, but it's not the same colour as the face and my guess is the whole stinkin' watch will eventually look awful when it's old enough.
I don't think this is the type of watch that ages well at all, and if I start showering with it on like I did with my old watch (not because I meant to, but because I'd forget I had it on sometimes), I think it probably won't hold up too well.
We'll see though! Maybe I'm being too critical and it'll last me a good chunk of time. At the moment I'd be happy if it lasted me a year or two, however, before looking too beat up for me to want to wear anymore.
I wanted the LA670WETG-9AEF version of this watch, almost the same, but with a gold coloured face instead of black surrounding the time, and with a different strap, but it was sold out by the time I jumped the gun and decided I desperately needed to buy a watch (because I broke the strap of my classic Casio F91W-1 clean off and had no other option).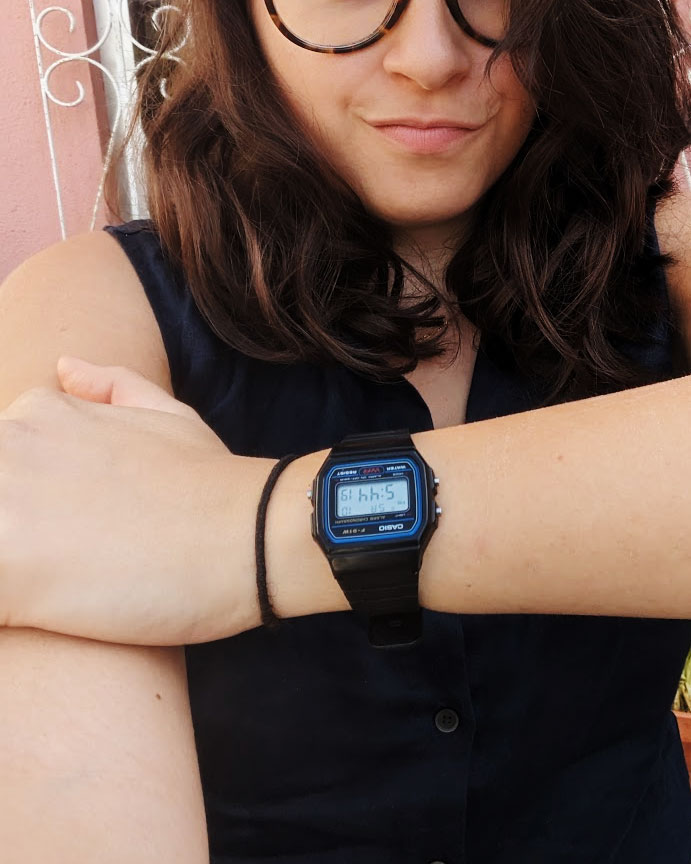 How did I break the strap off? Well if you knew me you wouldn't ask because I honestly am so accident prone it's insane.
We'll see how long this particular watch lasts me, because honestly, it doesn't look the best made. For the price you can get it in America, I understand why.
I think prices have inflated like crazy recently here, and it's just low in stock so it's making things worse, but still, quality-wise this does not appear to be the best watch.
It does have hourly chime, it has an alarm as well, it has a timer that I can use on the fly, and it has time and a calendar (day of the week + month and date), all built in, so like a regular Casio. But there's no illumination at all, the strap is fine but feels a bit cheap, and overall it's just an okay watch.
But I like the way it looks enough to have gotten it. Again, not because I love the way it looks, but because I have very few options out there that meet my criteria, so it's this watch or, actually I don't even know what else is out there.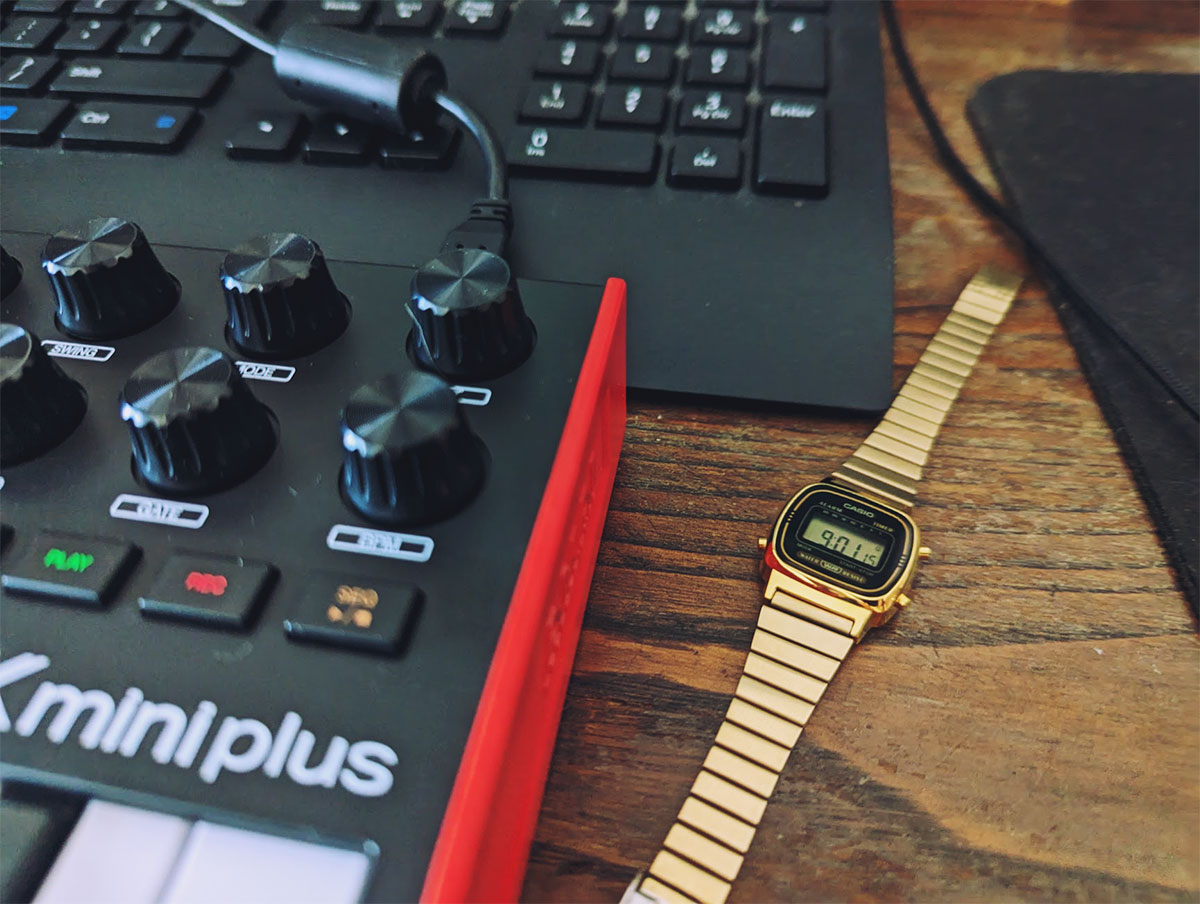 I know that Casio has other gold-toned watches, but they're unisex ones: the Casio 680WGA-9DF (marketed as a women's watch in America, but here it's considered unisex) and the Casio A168WG-9 (again, marketed as a unisex watch here, though it's actually marketed as a men's watch in America).
These have medium- to large-sized faces, consecutively, however, so they're not what I'm looking for.
If I go outside of Casio, I think maybe my only gold-toned options are the Timex T80 34mm Watch or an Adidas AOST220742I Watch? Neither of these look as good as the Casios so I don't even think I would bother.
So I'm stuck.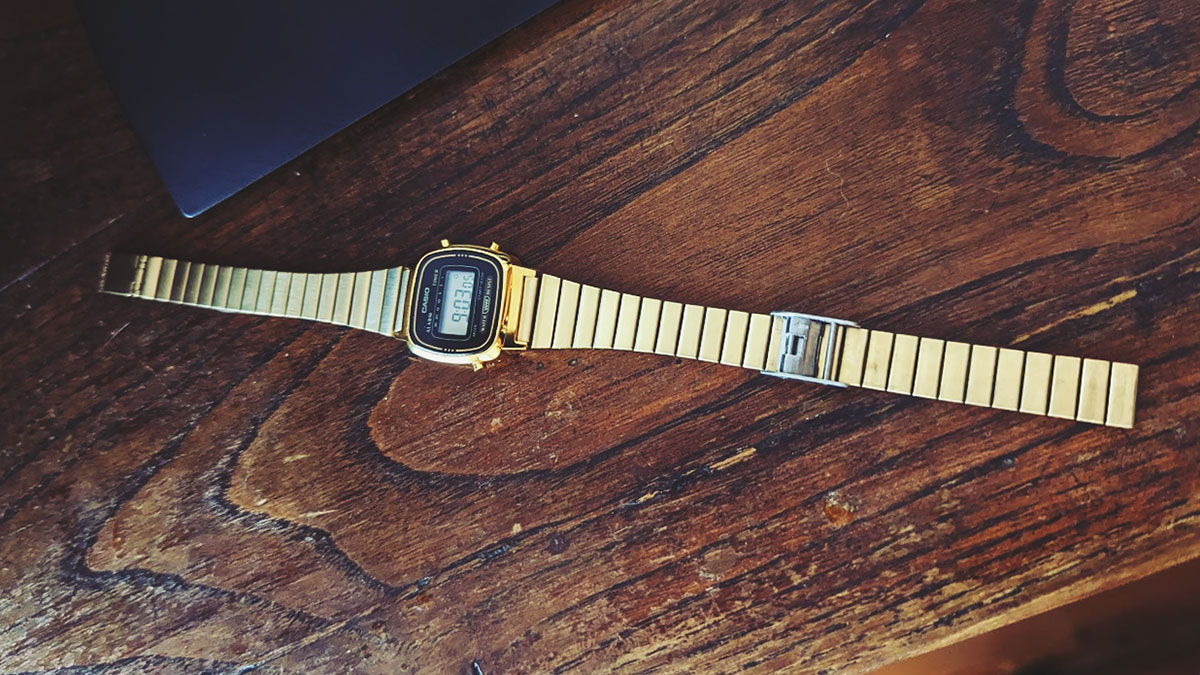 I would rather pay 2-3 times the money, if not more, for a really, really nice watch, but I sadly am not a fan of analogue because my brain is broke, and I really like the hourly chime feature because it reminds me to check the time.
I would consider getting the other Casios I mentioned, especially the Casio LA670WGA & Casio 680WGA-9DF, but I don't think they will be very much different from what I have and I think they will always feel on the cheap end to me.
They definitely look better in the product listing and in pictures, such as on people's reviews, than they do in the flesh.
They are just photogenic for the quality. But I don't know, what option do I have really?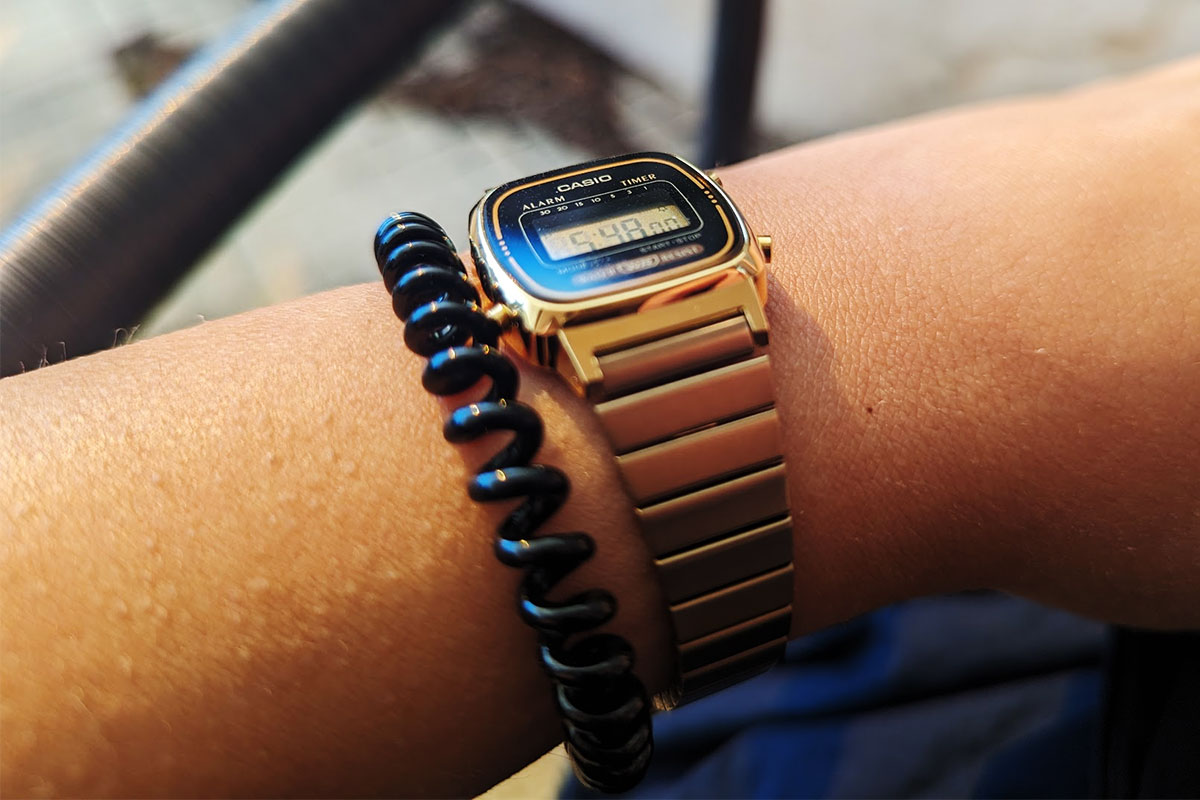 I also love the Casio LA670WEFL-3EF, which has a gold face with white inside that's the perfect vintage watch with a green strap. But I am again disappointed because I am sure the quality will be pretty trash like this one is.
Would love to buy a men's watch! I wear men's shoes nearly every day because they are just better quality, and like that TikTok meme, who's gonna know? They look damn good on a woman so I do not care one bit.
I feel like there are plenty of good quality watches out there for affordable prices. But again, not what I'm looking for in terms of features, the fact that I'm looking for a digital instead of an analogue watch really limits me.
Then of course, there's the fact that I kinda like the whole tiny face and dial aesthetic on me. I am sure there are plenty of vintage (proper vintage not re-issued vintage) watches that have small faces, however. But I need to get better at reading analogue time.
All in all, would I buy this again? Yes. Because there are no other options.
Would I recommend it? Not if you want quality. Hard pass on it, in that case. If you're fine reading analogue watches on the fly, don't even bother with this, find something better.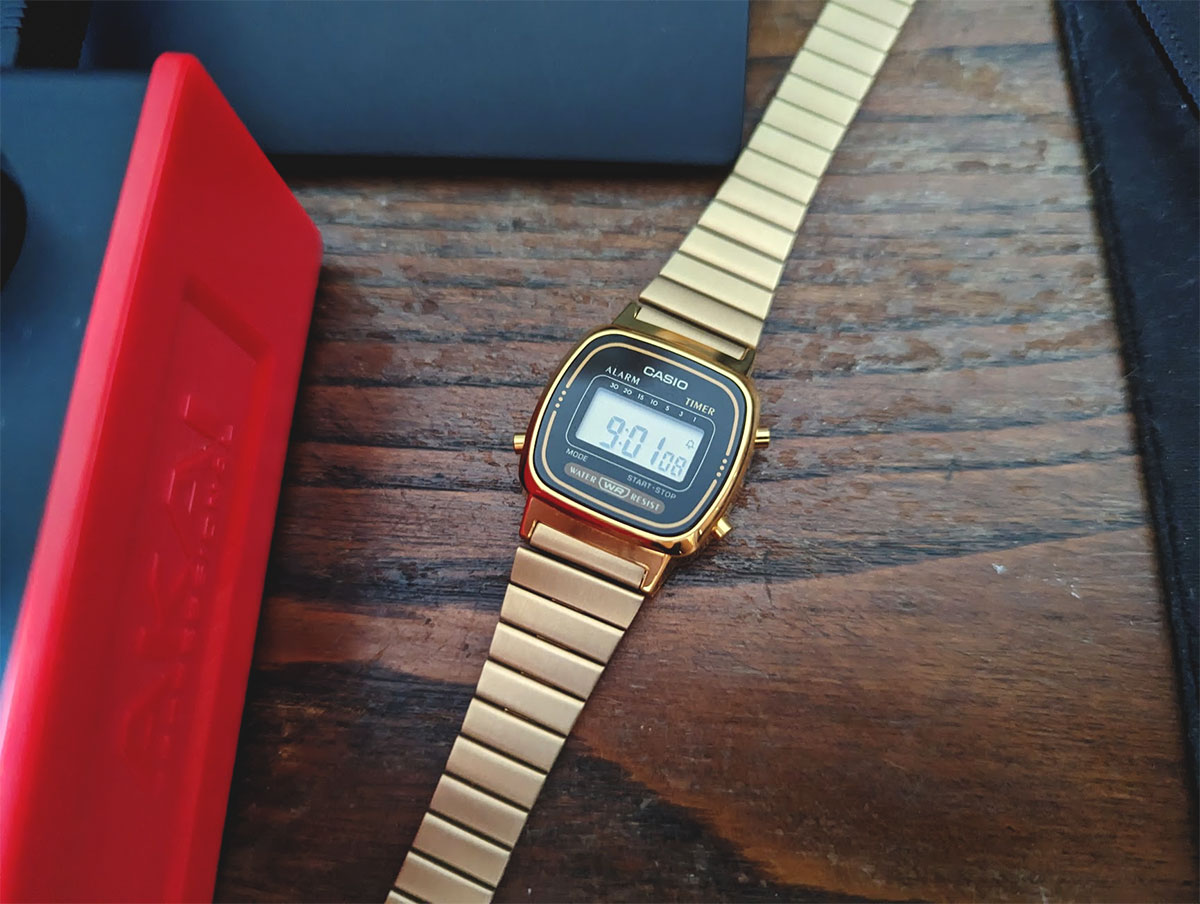 If you're stuck in the same boat as me, I don't see what options we have so I'll pull up a seat and you can sit with me in the "nothing else better for now" section.
Hopefully we get some more options in the future. Maybe wearing a watch will make a comeback and women everywhere will start complaining they want more options - and more good quality options and won't put up with just crap on their wrists anymore.
Until then, beggars can't be choosers and I am obviously asking for too much, as not enough women apparently exist with the same list of demands as I do for a women's watch.
I'm guessing most women who wear watches wear them as accessories anyways, so why on earth would they go for a digital watch at that point?
Disappointed? Yes, more than a little. But glad I at least have some options instead of having to wear a stupidly sporty women's watch to be able to have a digital clock on my wrist. Not for me, so thanks Casio for at least providing some aesthetically better options, even if they aren't so good.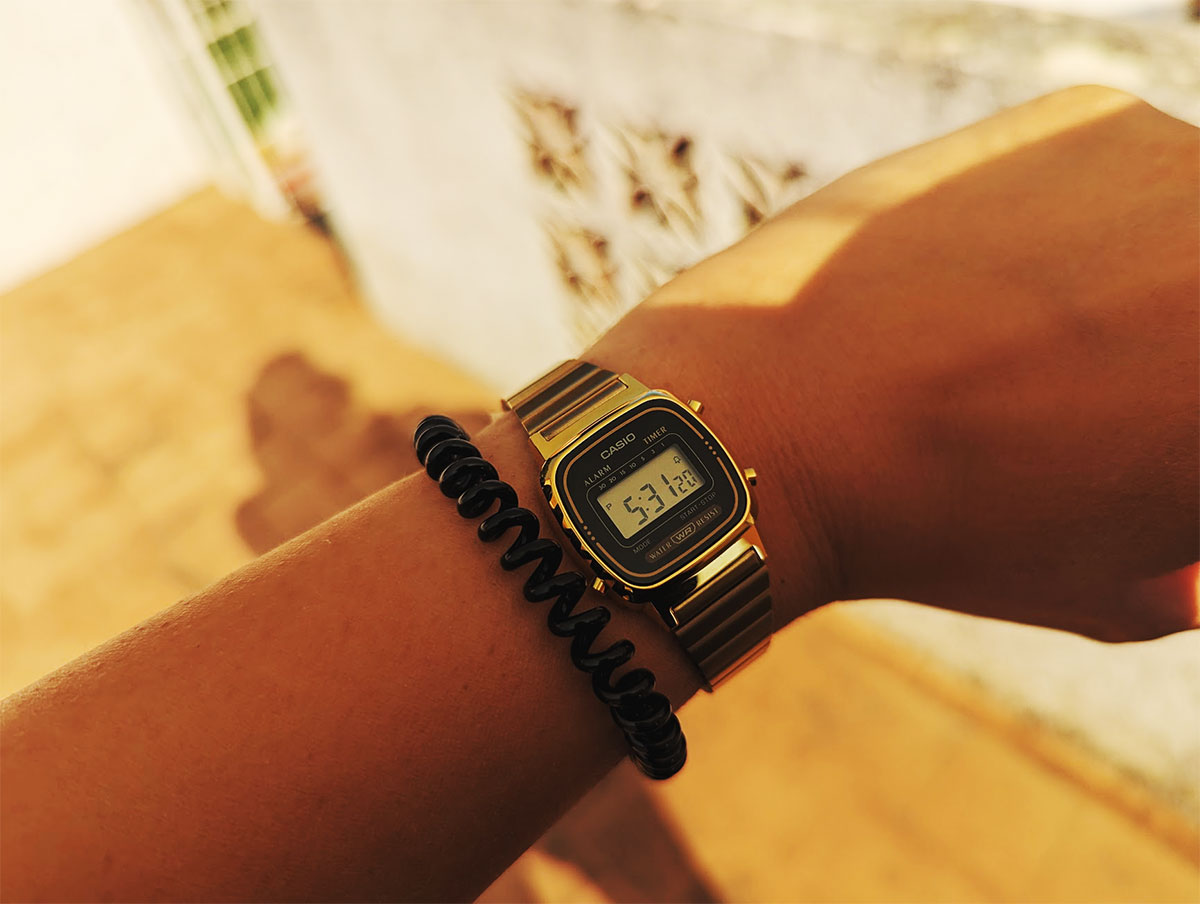 But please, please, please, make some better quality ones?
Just one to see if people will buy it?
I'm guessing the answer is probably yes, but at least put one out there so I can buy it and a million copies of it and be set for life with pretty gold-toned watches for wearing out that aren't stupendously cheap feeling.
K thanks.