A Woman's Perspective: Wearing Hutton Playtime Chukkas for a Year (Review)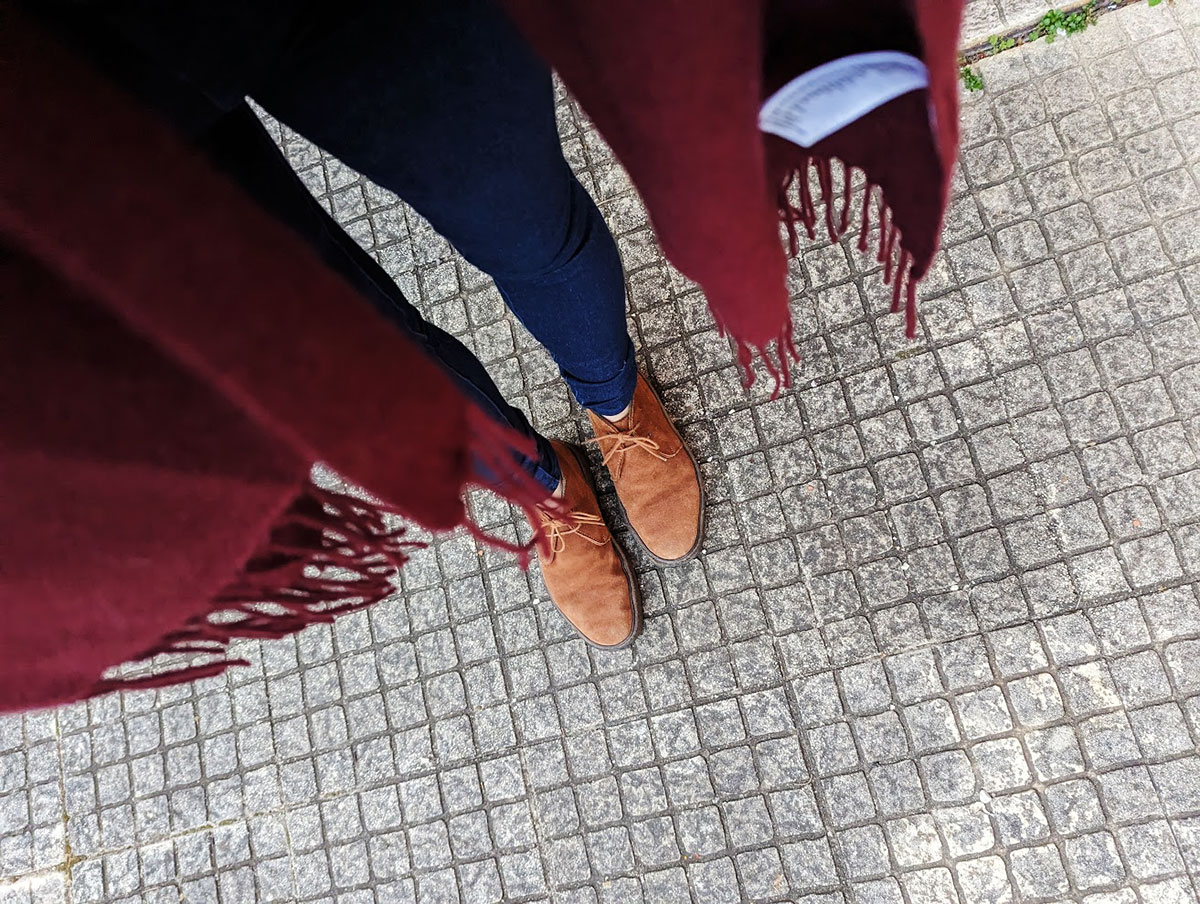 Sometime last week I got a notification from Google Photos of photos from the previous year, photos taken on February 21, 2022, that were of me trying on some Hutton Playtime chukkas for the very first time, to see if I liked them and would want a pair for myself.
Full disclosure - which you especially may be curious about if you've interacted with Hutton on social media or through emails before - yes, I am the Elise who works at Hutton.
In fact, (if you know the Hutton backstory) the Thomas Xavier who helped Gary Corben bring back the Hutton Playtime? That's my Thomas - he's my husband <3.
Yes, I'm super stoked about having unlimited shoes, but you'll see what I mean later in this article when I say, I'm not sure I need any more. This one pair of Playtime chukkas... well I'm not going to spoil the ending more than to say one word: obsessed.
But back to the day I first tried them on! I had been wearing my Type 01 Desert Boots for a while, but while I liked them well enough, I was itching to try the Playtime chukkas.
To be fair, the Type 01s were (at the time) definitely the most comfortable pair of shoes I owned.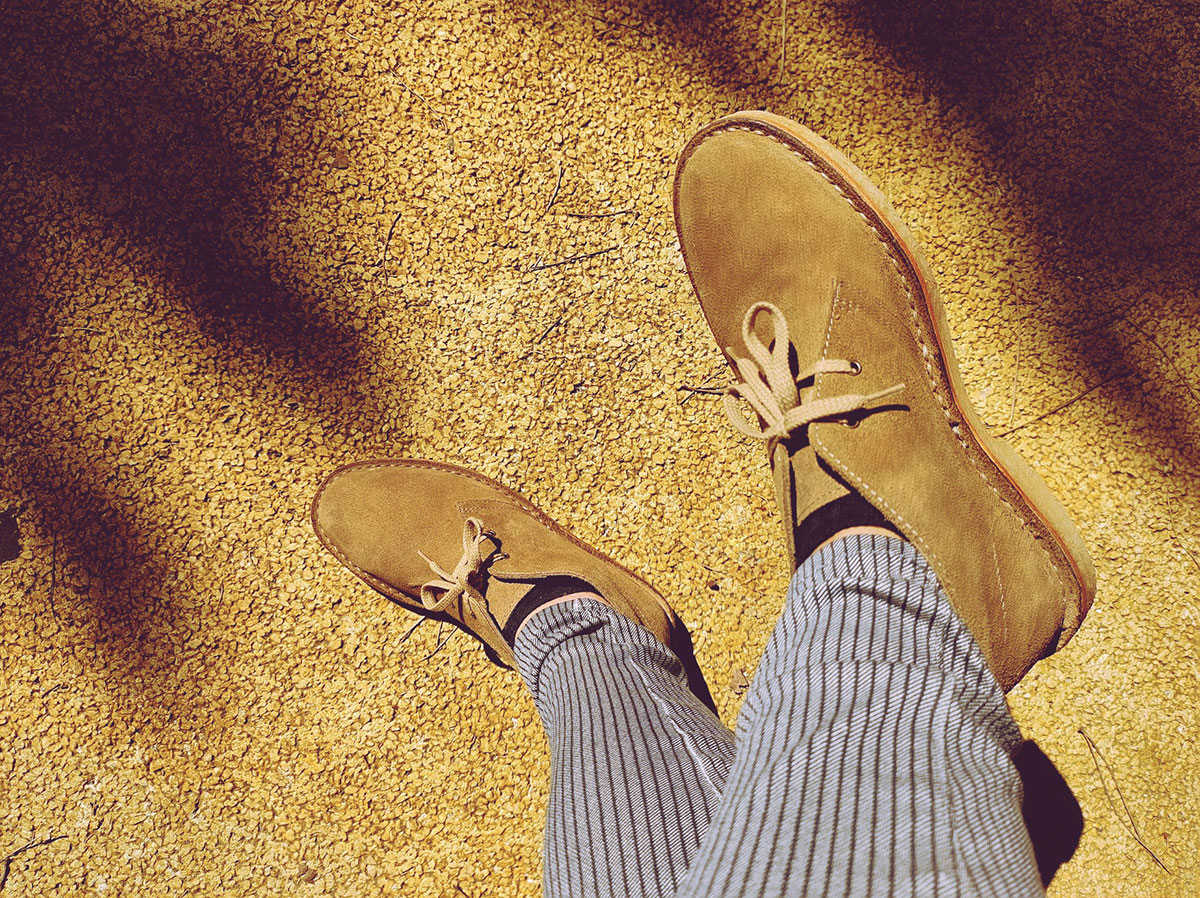 Women's shoes are sorely lacking in quality the first place, let alone trying to find a comfortable pair at that.
Still, I was obsessed with how the Hutton Playtime chukkas looked. They are stunners, and so I always have been smitten with them, and I know I always will be.
There's just something about the Playtime.
To be fair, I seem to nearly always prefer the silhouette of the chukka to a traditional desert boot silhouette, so maybe that's something to do with it, at least for me.
Not even sure how I would use words to describe the difference between a desert boot and a chukka, there's just something that keeps my eye on a chukka for much longer.
Still the Playtime is a different kettle of fish from the Type 01 Desert Boot.
I vividly remember the day I tried these bad boys on.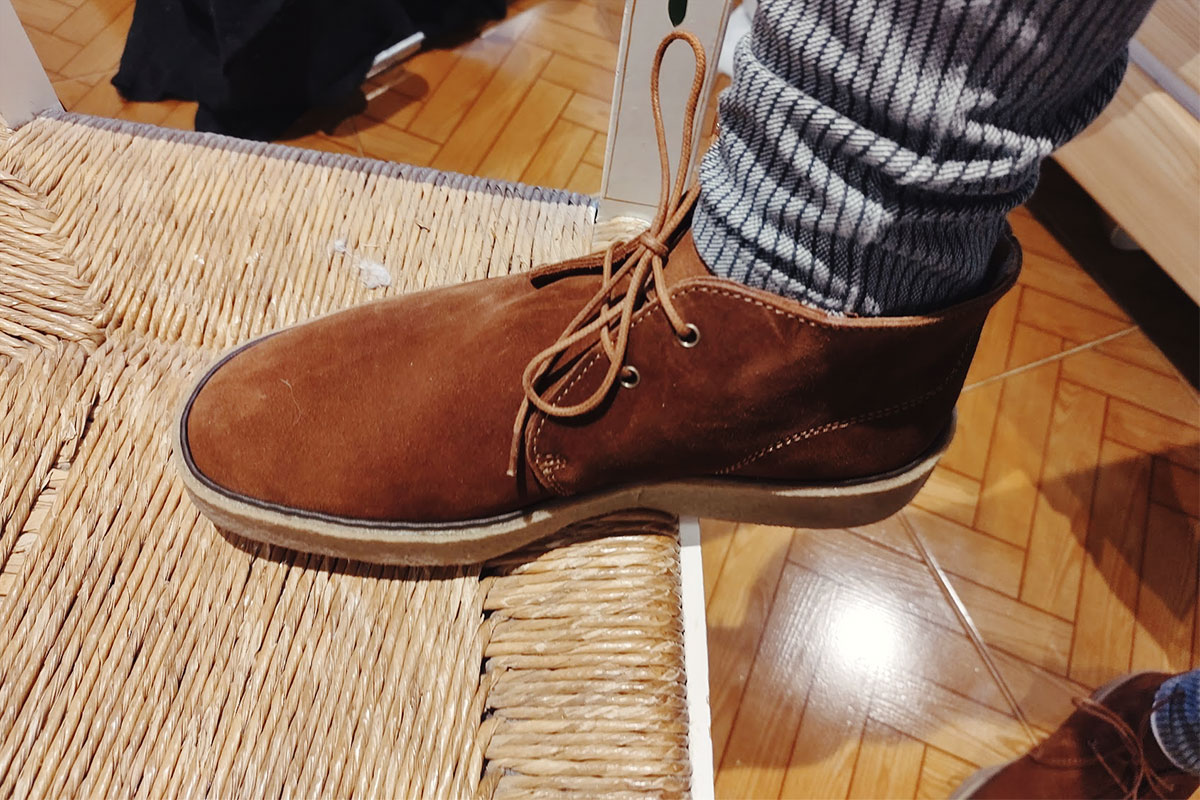 I was strangely uncertain about being able to pull them off - for ages, wanting to, but worried that it wouldn't somehow work.
The Playtimes looked a little more "boyish" and masculine to me than desert boots, which you'll often see women sporting. Not too many women wearing chukkas out and about.
The second I had them on my feet, however, I was enamoured.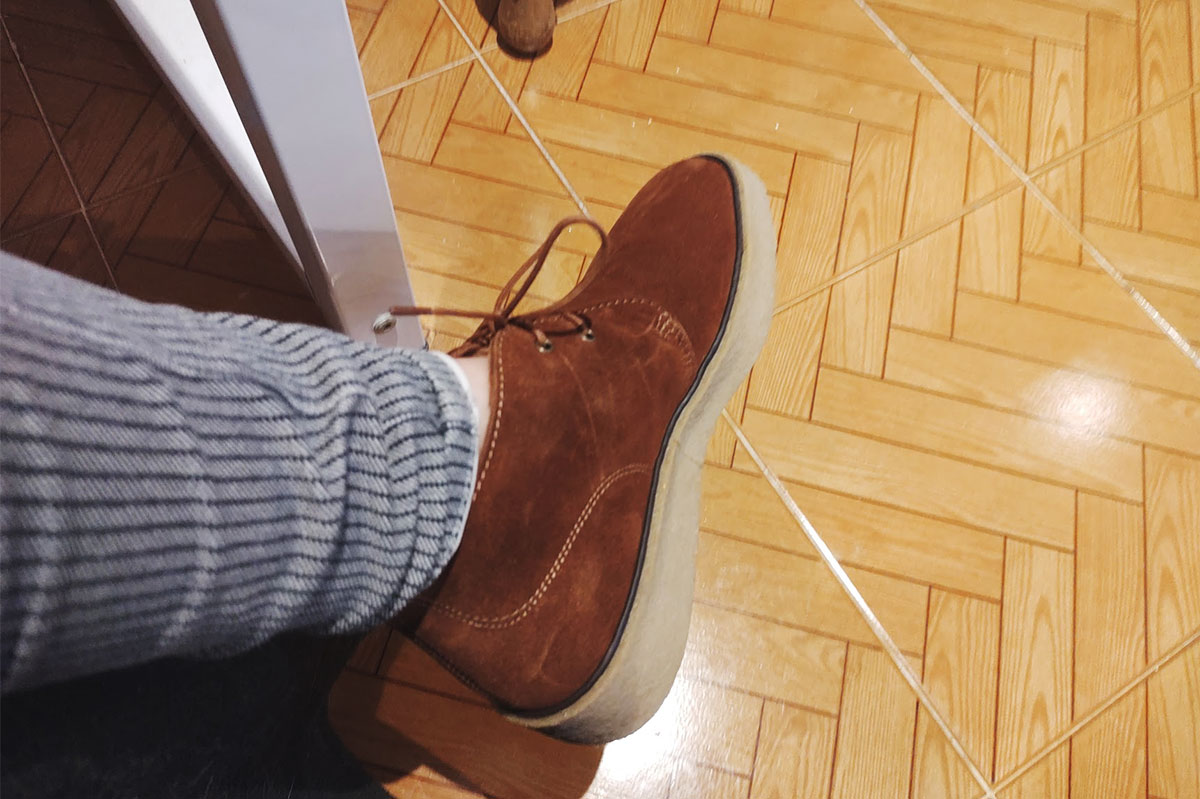 Okay more like obsessed.
And I'm the type of person who takes obsession over accessories to a level that makes little to no sense to most: when I love a pair of shoes or a handbag, I somewhat begin to forget others exist.
Every other option pales in my thoughts to the idea of wearing what I'm currently obsessed with and I cannot imagine wearing anything else for a long time.
And when I say a long time I mean it.
I am not exaggerating when I say that I've worn my Hutton Playtime chukkas on nearly every outing since I tried them on.
These bad boys have been through all sorts of weather with me. Plenty of wind, chucking it levels of rain. Sand, so much sand. I vaguely remember a bit of mud.
We don't have snow here in Cascais, Portugal otherwise I would've tried them in the snow as well.
If I ever go back to visit Canada (where I was born) in the middle of the winter, I will definitely need to try these out to see how they work out in the thick of sub-zero weather with snow and slush as well.
These shoes age like magic. They honestly look better to me now than the day I got them.
I can't stop snapping shots of them, even when I don't intend to share the pictures online (I rarely use social media). They just look so good, the colour pops so perfectly, I want the photograph for myself.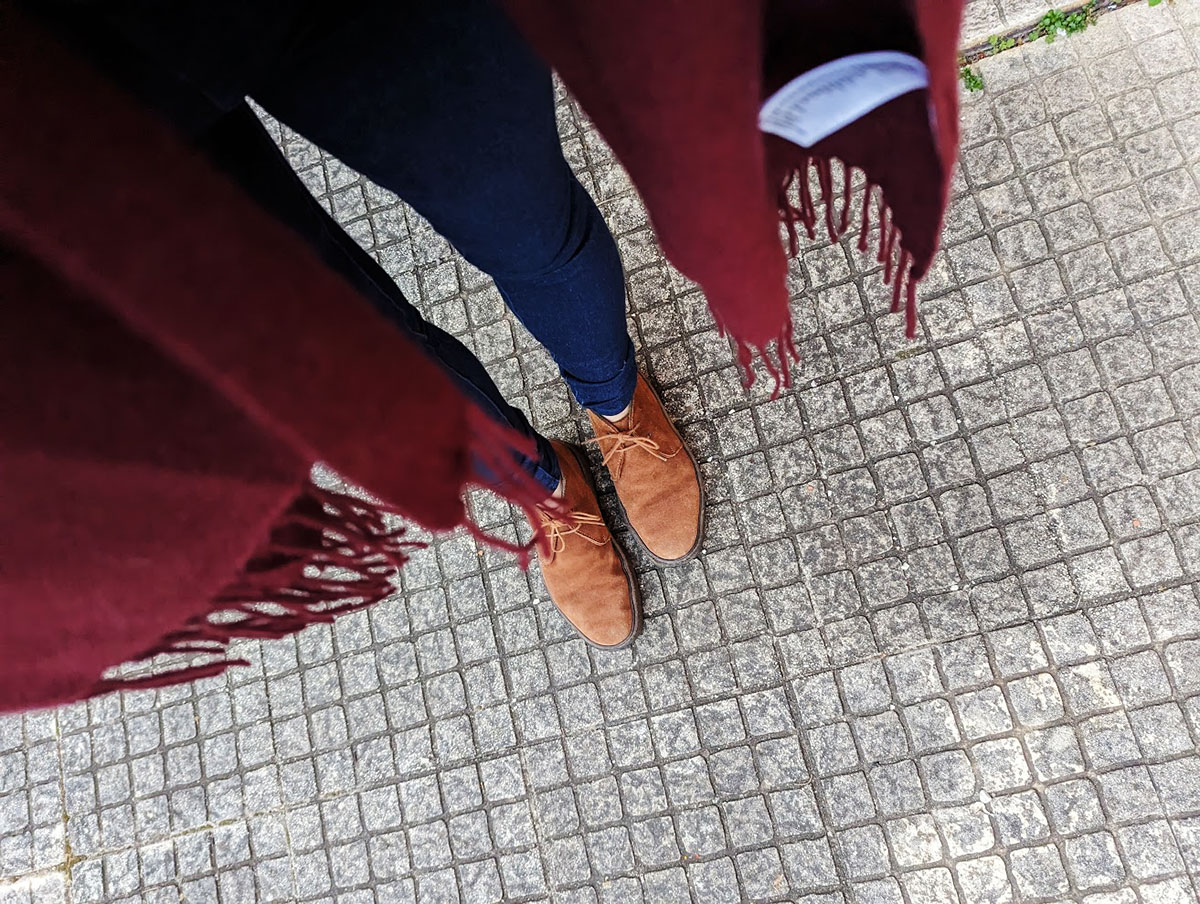 I mean that photo practically demanded to be taken. The boots look so good the scarf tag doesn't even detract from the photo. They're just so impossibly stunning they demand the attention drawn to them.
My Playtime chukkas have become such a part of me that it actually left me dumbfounded to see that it's really only been a year that I've been wearing them. It feels like so much longer.
Actually, they feel like an extension of myself now.
They're such a staple piece in my wardrobe that it's weird when I don't wear them.
They're certainly a part of my "uniform" - which are my go-to pieces I will typically wear if I don't want the brain space to work out an outfit that will look good and simultaneously be comfortable for the day (skinny jeans/stretch leggings, a square-neck stretch top, and a cardigan in case anyone wants a cheat cheat; mix and match colours & textures).
I typically choose what I wear based on the knowledge that I will put these on, and that they will look better if I have on skinny jeans or stretch leggings (thank you, Uniqlo for making the perfect pants in so many different colours & patterns!).
Certain pieces in my wardrobe have gotten little to no use this past year because I've changed out of them mid-way through "outfit select" because I remembered I'd have to choose another shoe that wouldn't in any way feel as comfortable or look as good as these chukkas.
Not to say that these boots limit me, even if legitimately never wore anything else.
I've worn them with pants, shorts, even skirts and dresses. No problem at all.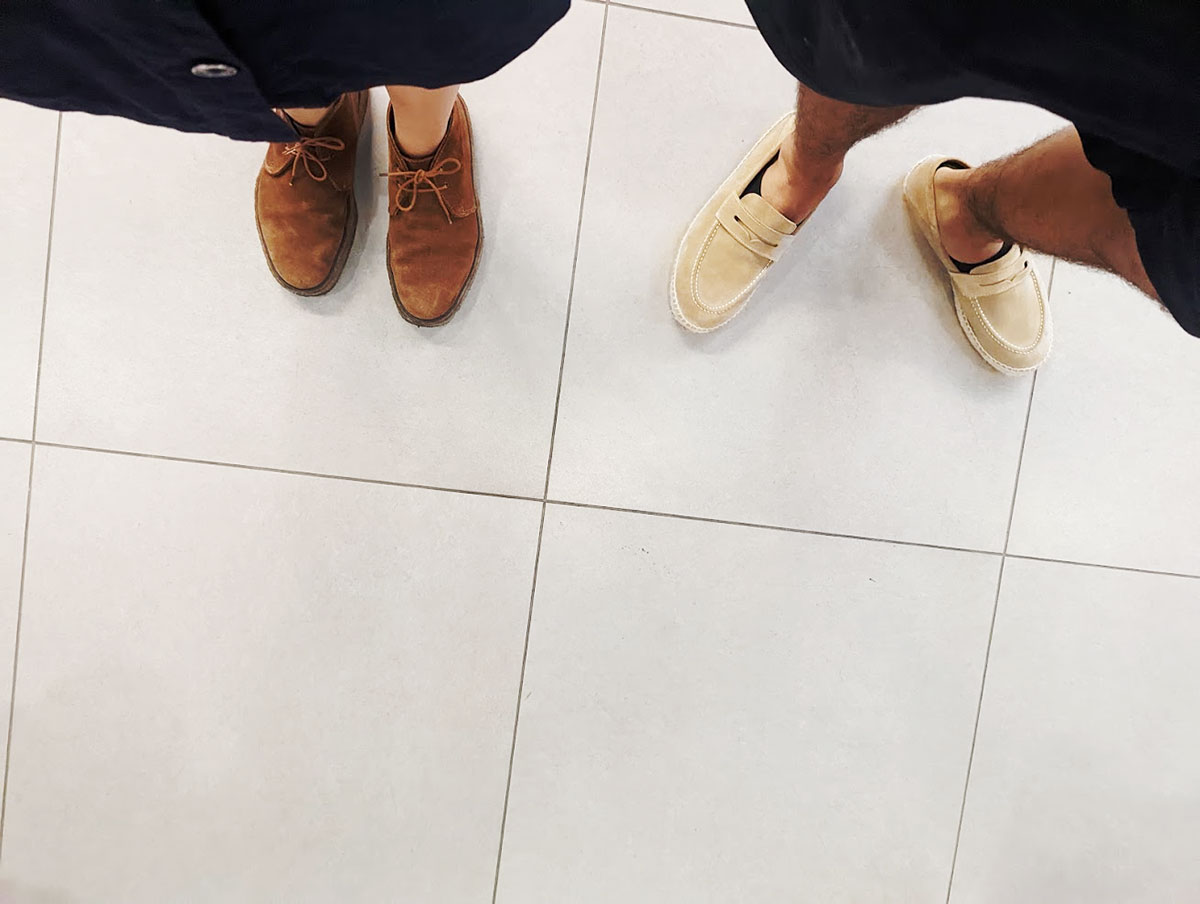 Actually, their addition to my wardrobe was a complete match made in heaven.
They seem to somehow suit nearly everything in my wardrobe effortlessly, the exception being (in my opinion) loose fitting, flowy pants, which I can absolutely pass on as I rarely wore them to begin with.
Hutton needs to make some sandals so I can have the perfect pair of shoes for super-hot summer weather, and I'll continue to default to the Playtime for everything else.
Oh and I definitely Playtime chukkas in other colours and leathers. Because I would sport so many, though the classic in English Tobacco would have to be my go-to, of course, because they truly are classics for a reason.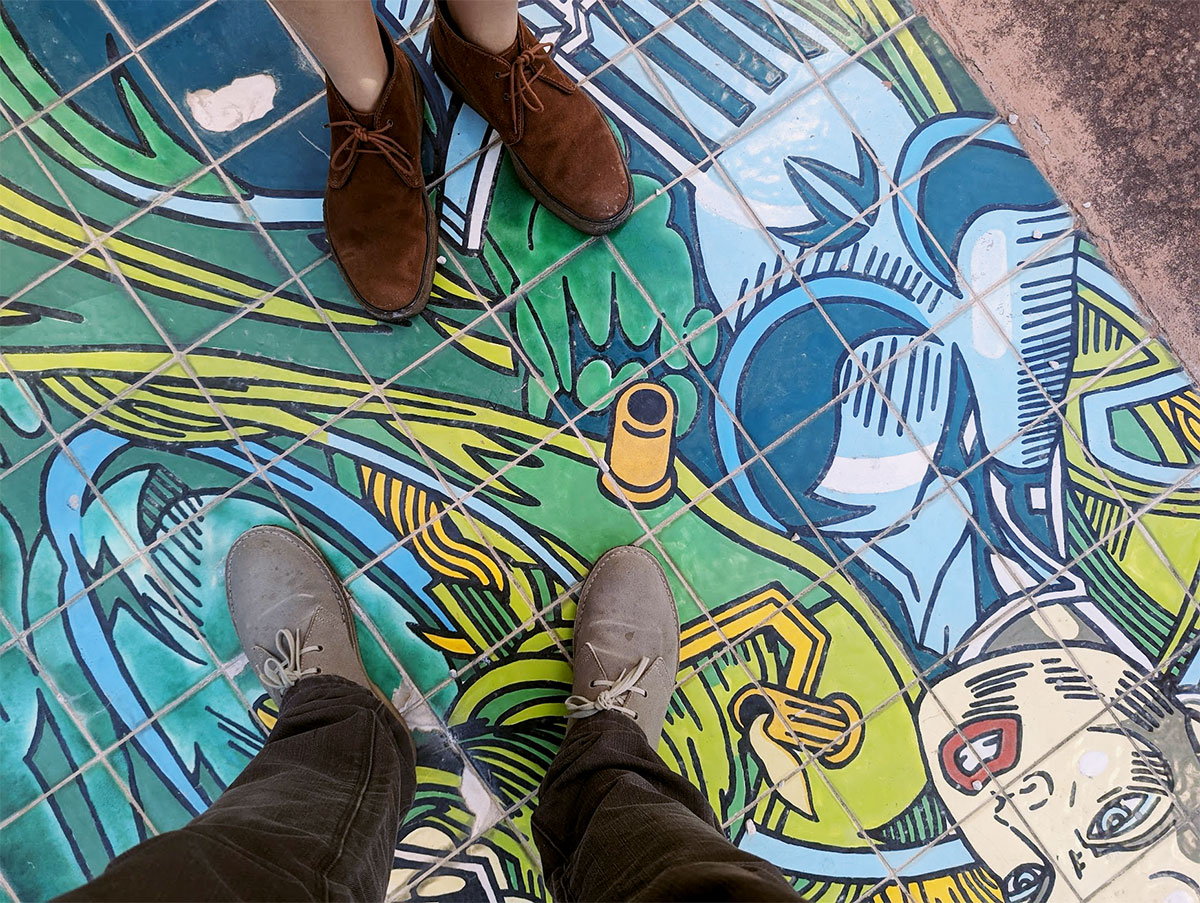 The final verdict: Hutton Playtime chukkas look absolutely amazing even as a women's shoe.
And they are still versatile as all hell with what you can pair them with as they would be when pairing them with outfits in a men's wardrobe.
They look better and better over time, and I can't wait to keep wearing them for another whole year to see how good those soles look.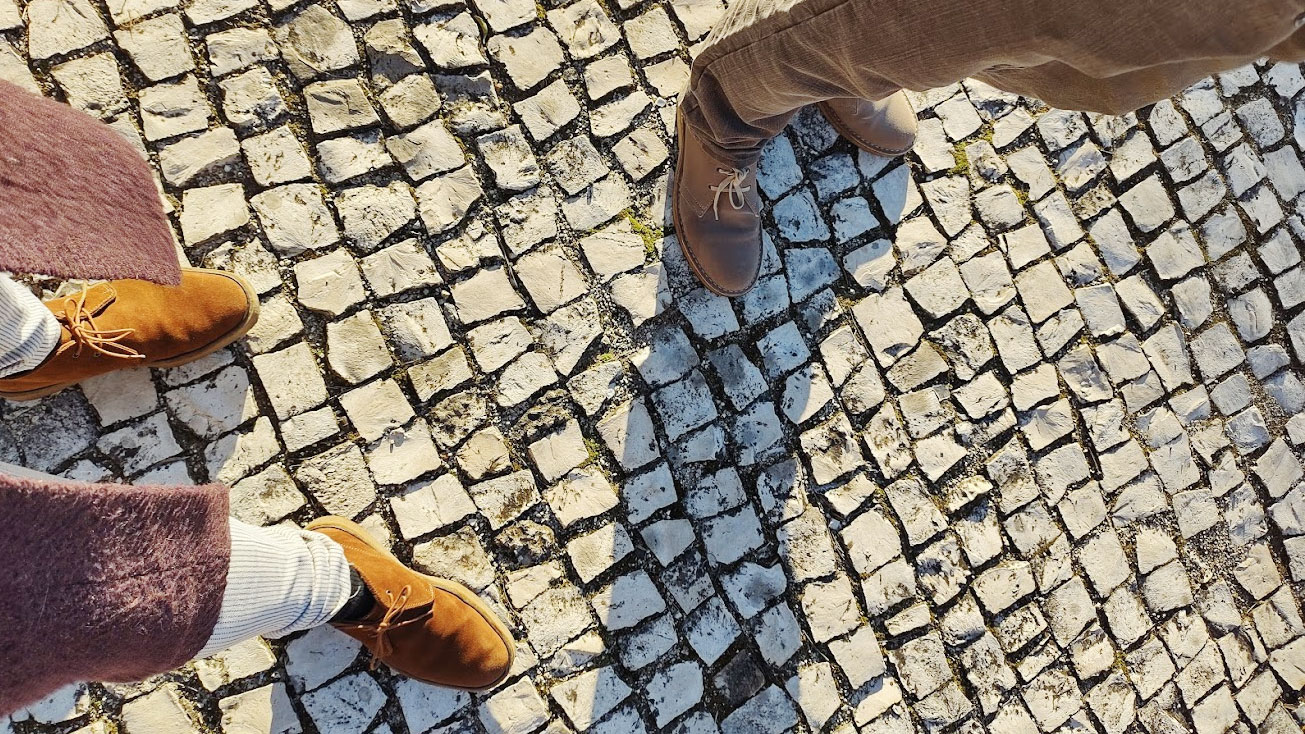 I can't imagine ever falling out of love with these bad boys.
Forever the perfect aesthetic. What's not to love?
(PS: It occurred to me I hadn't shown before and after pictures, especially of how the soles look considering all that time out and about with me... You ready for a peek? See how my Playtime Chukkas aged after a year here!)