Current Obsession: These 3 Brown Eyeliner Looks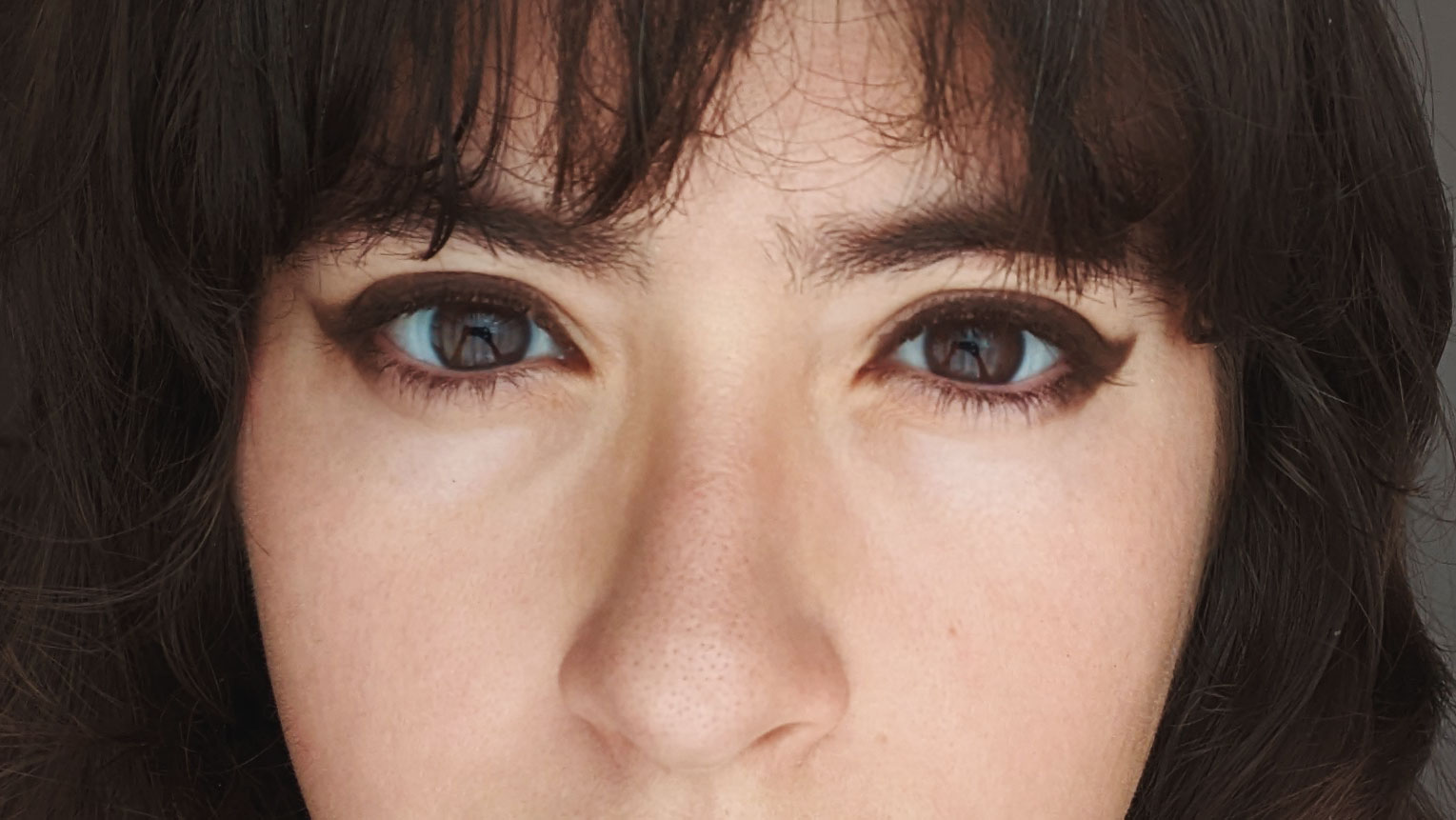 I'm an eyeliner gal through and through. Never been one to really care about much else.
If I had to choose one type of product and one alone for the rest of my life, I'd choose an eyeliner, hands down, though which one might be a little tough to pick out.
These days, however, I'd choose a brown pencil eyeliner. Which one? I'll get to that in a quick minute, but here's a swatch of my top 2...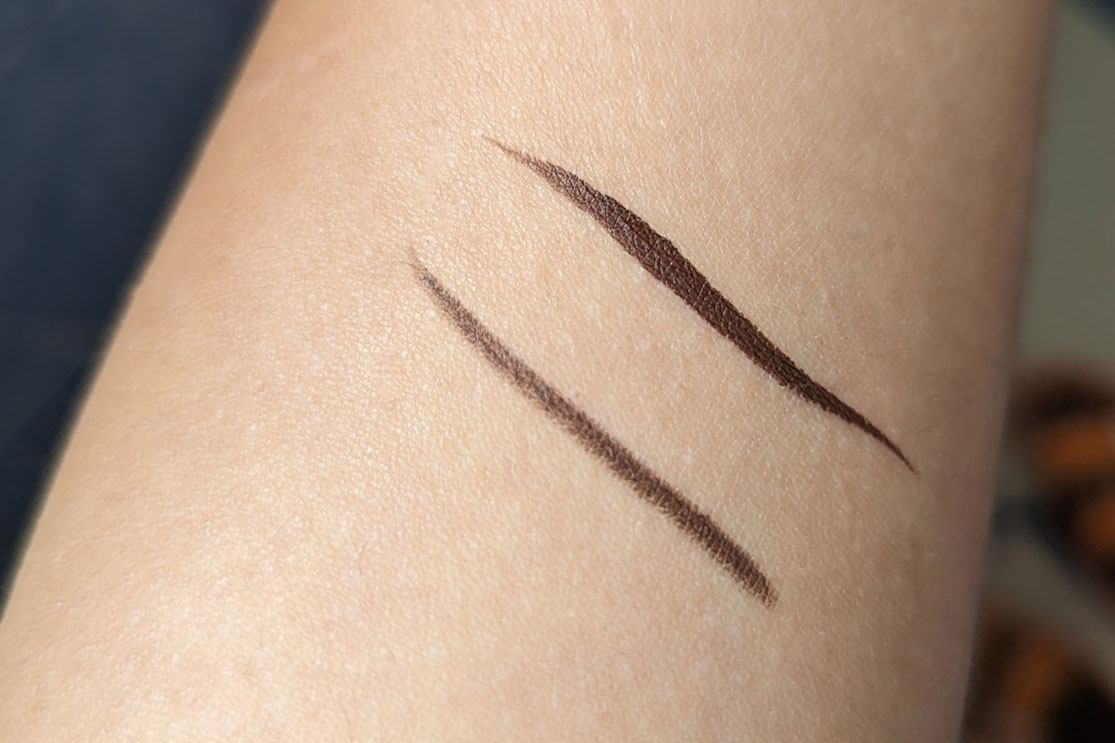 I can't handle the feel of mascara - so I'm a little odd in that regard. Luckily, I have very long, thick lashes already, so I don't really need mascara.
But I am obsessed with the way eyeliner makes your eyes pop, and I love all sorts of eyeliners, having used liquid, gel, and pencil all as my go-to liners for many months at a time.
I used to really like the look of brown eyeliners. The way they made my eyes stand out but sort of softened my look. But I somehow seemed to have forgotten about them for ages, until I was watching that season from Love is Blind with Raven Ross and could not get over how stunning her eyes looked.
Obviously, brown eyeliner does not make me have jaw droppingly beautiful eyes like Raven Ross has. But still, her brown eyeliner look for the majority of that season gave me the itch to try out some brown liners again.
And so I grabbed a bunch - pencil and liquid (have not managed to find any nice gel ones!) - and settled on literally just two oh-so-perfect brown liners that I cannot stop using for absolutely everything...
They're cheap, really easy to get a hold of, and I love them both oh so much, but if I had to choose just one, it would probably be...
The L'Oréal Paris Infallible Grip Mechanical Gel Eyeliner Pencil.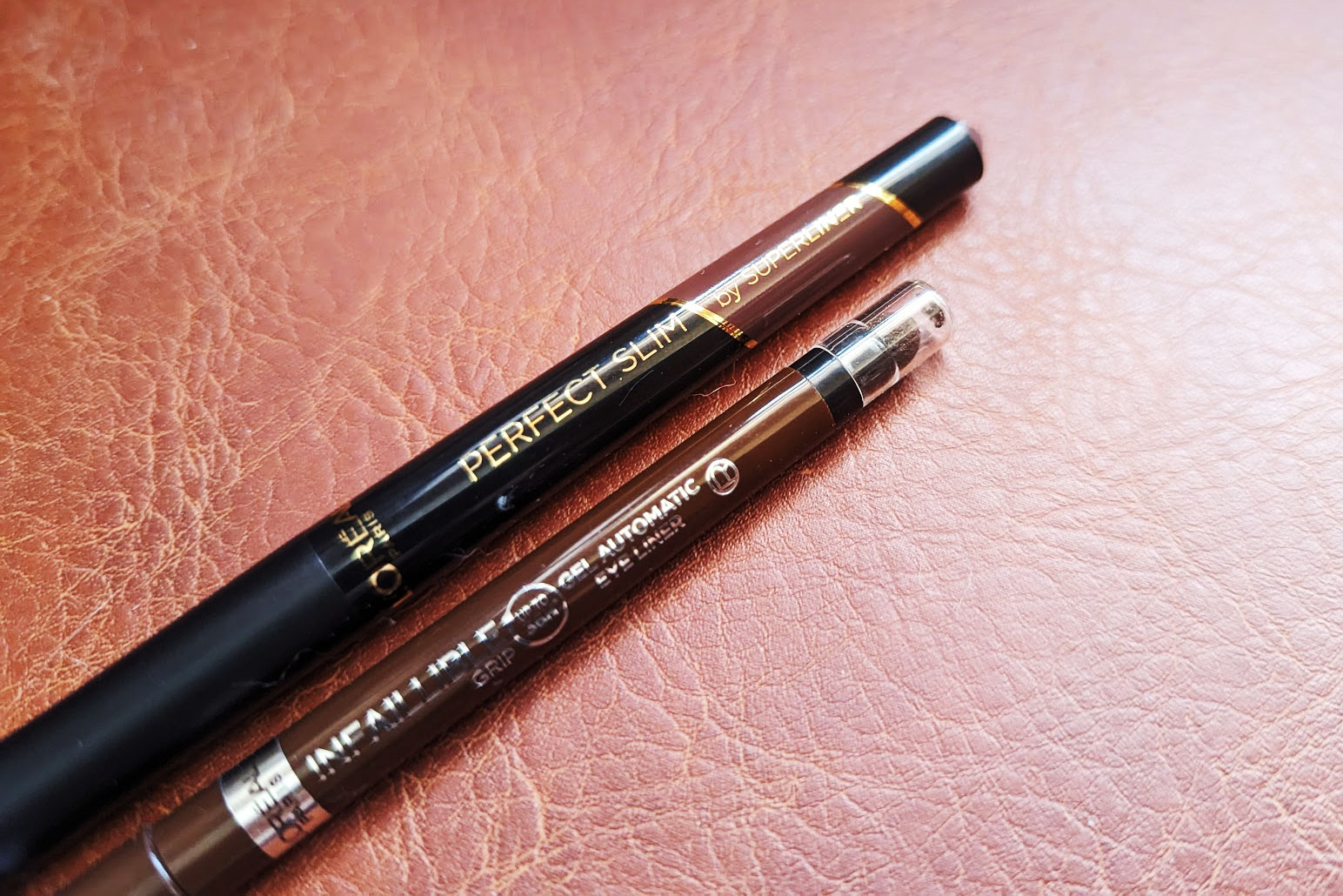 First off because I literally cannot ever be arsed with sharpening pencil eyeliners. So if I'm going to use it it's going to be an automatic/mechanical pencil eyeliner.
Second off because, it's formulation is epic for me. I've never used a pencil eyeliner that's pretty easy to manipulate before it dries/sets and yet when it's on, it rarely/if ever smudges or wipes off.
I discovered this by accident. I went back to wearing pencil eyeliner after ages of not wearing pretty much any make up, and I rubbed my eyes. Panicked after I realized what I'd done, I checked my hand - nothing. Went to the mirror - eyeliner still hadn't budged. Shocked is an understatement, I cannot believe this stays in place so well.
Okay so that's #1, what's number 2? Another L'Oréal product actually. I've been on a kick and they seem to deliver quite well with their staples so...
L'Oréal Paris Makeup Infallible Super Slim Long-Lasting Liquid Eyeliner, Ultra-Fine Felt Tip, Quick Drying Formula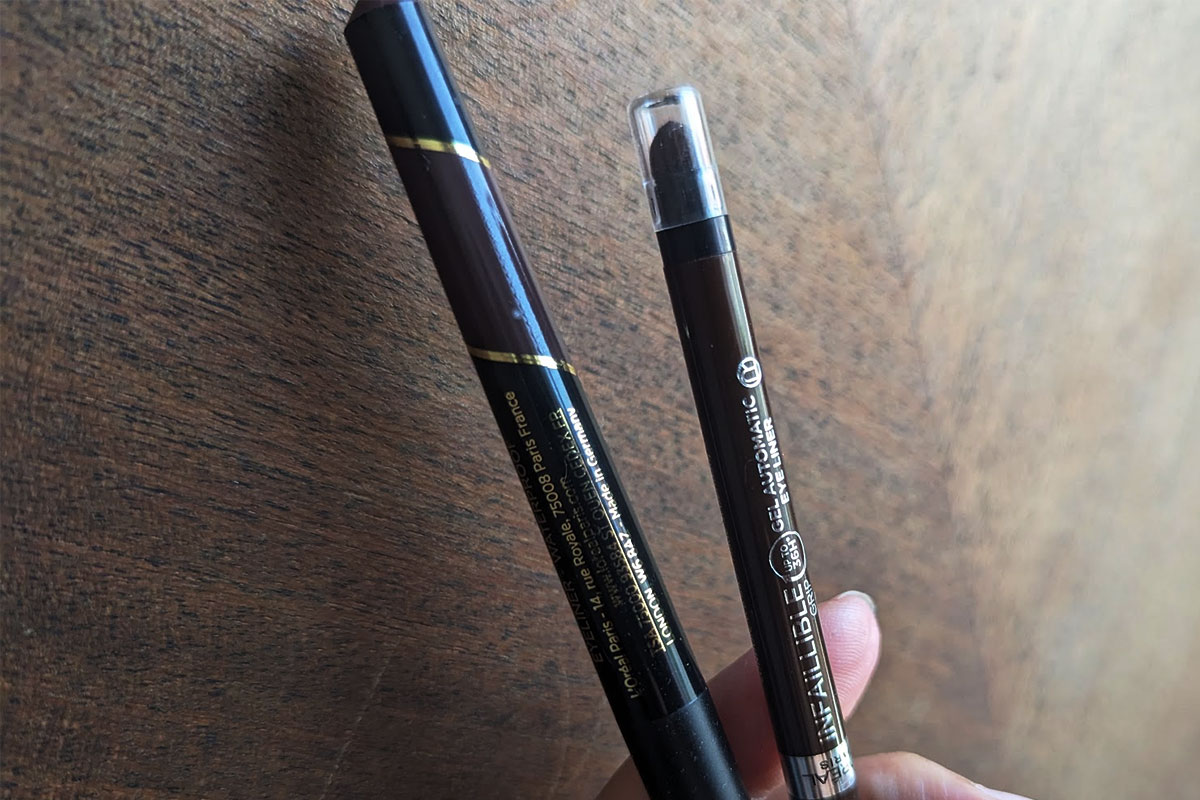 Not going to lie, I didn't expect much from this. It wasn't super common to find brown liquid eyeliner, and I'd tried the black formulation of this ages ago, and it was fine, but I didn't feel it was anything to write home about.
The brown one? I am obsessed with. Dunno what it is about it, but it's like incredibly visible, sits just right, super easy to draw on thanks to the fine tip, doesn't rub off too easily (though it definitely does more than the pencil liner).
I use it infrequently just by itself. But more often I use it by pairing it with the pencil liner and daym do they play nice.
Okay so now for the looks. All created with one or both of these eyeliners, starting with my favourite...
1. Liquid Wings + Pencil Above Eye Brown Eyeliner Look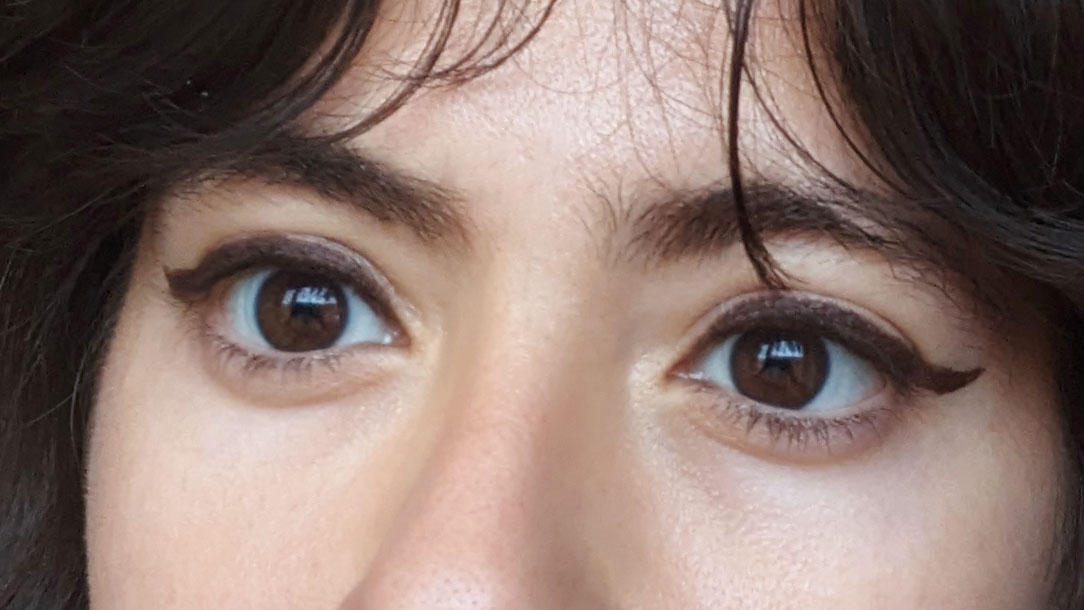 This one's really lovely in my opinion, and has been my current go-to if I want to put a little more effort into a look, but still want a soft brown appearance to the eyeliner.
I start with a wing on each eye with the pencil, usually going out quite far (because I love winged liner looks that go out considerably far), matching them as evenly as I can, and then once I'm done with the liquid liner, I fill in around just the top of my eyes with pencil eyeliner.
I like wing looks that lift, so I'll typically angle up, at least at the tips of the liner, and each day I'll try a different angle to see what I prefer on my own eye shape and face.
Though you can probably tell if you're up really close and know what to look for - I don't think the fact that I'm using two different types of eyeliner is obvious. I could go over the liquid with pencil, but I actually like the fact that the ends of my wings are considerably lighter then the middle portion around my eyes.
Here's a shot of the look on a different day, eyes closed this time.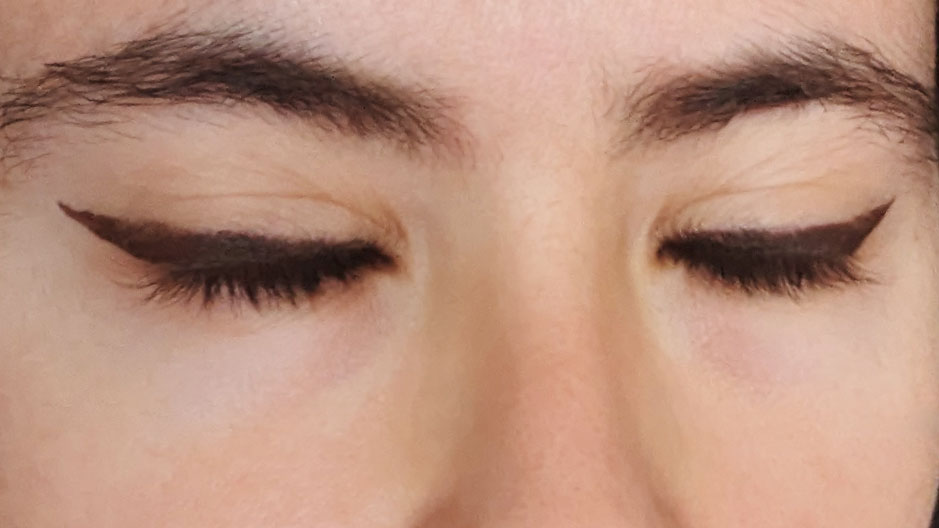 Love how soft the wings are, and how they can be perfectly placed without sacrificing a matte finish to the eyeliner near the eyes, which I always prefer as I feel matte eyeliner near my eyes makes my eyes shine just that little bit more.
Okay, next look! This one's been my go to for ages:
2. Clean Winged Brown Pencil Eyeliner Look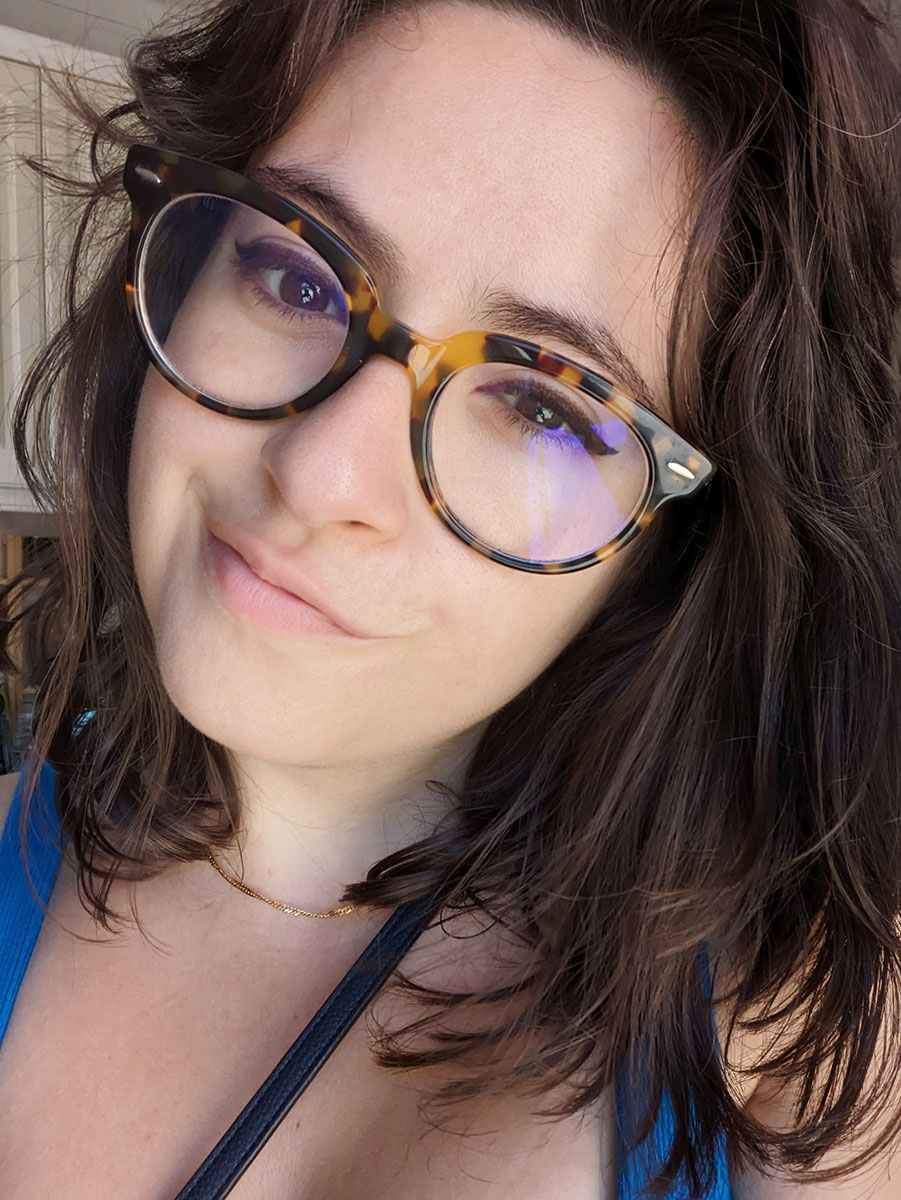 This look is similar to the previous one, but done using only pencil eyeliner.
This means it - to me at least - has a harsher, or more dramatic look, which can be good or bad, depending on if you like it.
Usually, the tips on my wings are not as thin using this technique, and it's a little more of a struggle to get the wings to perfectly match up since I'm not sharpening pencil eyeliner.
But what I'll do is I'll line the mids of my eyes first and then after a little while the pencil liner has a bit of a flat edge on it, I'll turn the edge on it's side to and use it as a sharpened edge to make the liner.
I'll draw a line, the bottom portion of the wing, then connect the liner on the top once I have the lines on both sides drawn.
Sometimes I'll add a bit of liner on the outer edge of my lower lid and smudge it. Other times, if I want a look that makes my eyes look larger, I'll forgo putting any liner on the bottom. It's a toss up which I choose, though in the picture above I didn't use any liner on my bottom lid.
Here's a version of this look with a wing that's got that lower lash line smudge I was talking about, and that's got a different angle to the wing...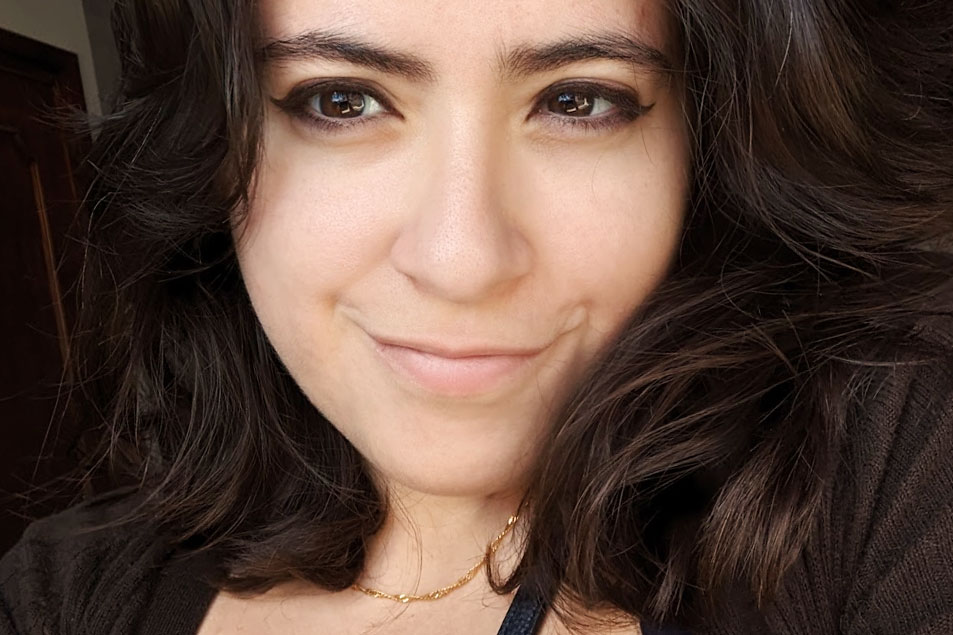 Nearly the same, but more smoky of an effect, and definitely doesn't leave the eyes looking as big and open.
Smudging brings me into my last brown eyeliner look, one that I don't bother with all too often, but I do love...
2. Smudged Winged Brown Pencil Eyeliner Look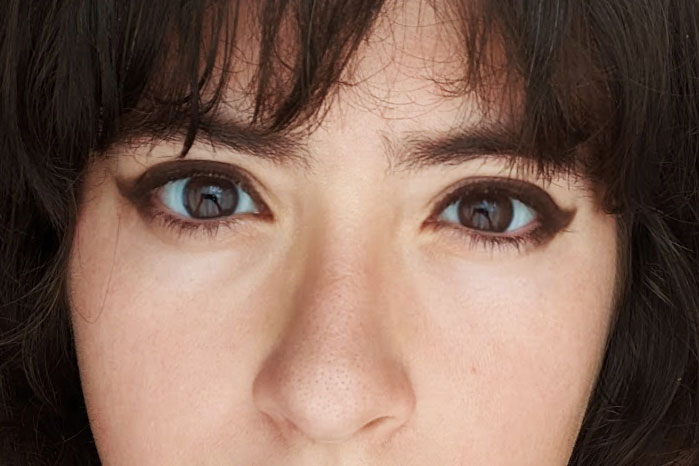 I love this look, it's a shame I don't do it more often, but it takes a lot more patience and I sit there working the brown liner, smudging it a bit at a time so it doesn't go too thin.
Here's the look with eyes closed so you can really see what I do: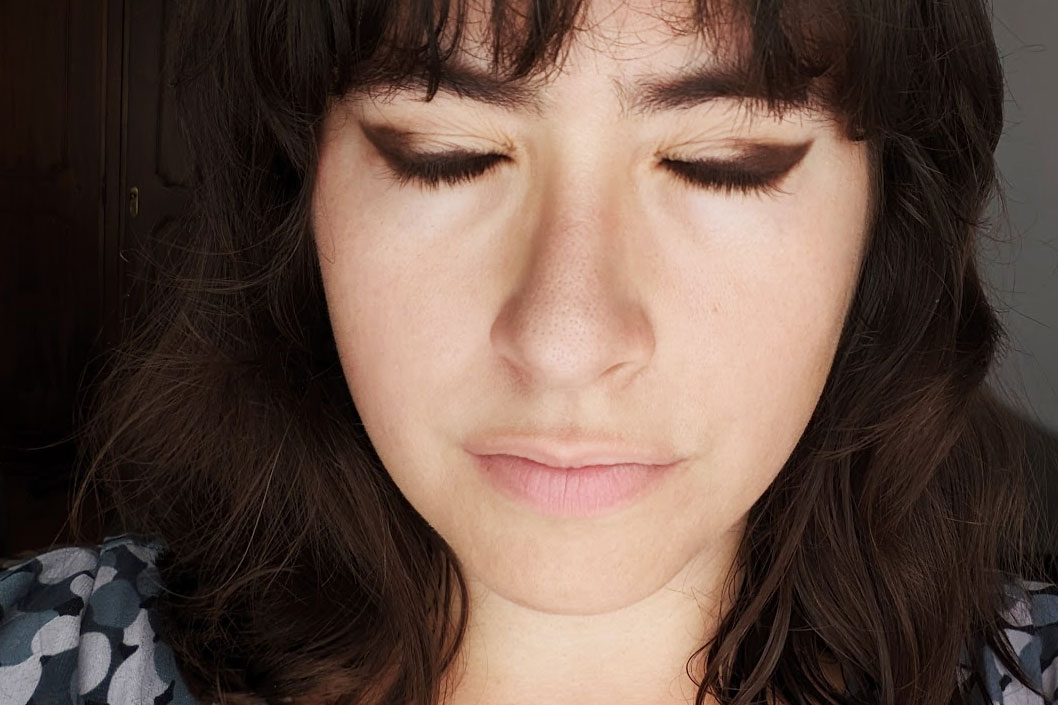 Sorry about the eyes closed images always having my eyelids way too tight. I can't seem to relax my eyes enough to save my life!
But you can still see what I'm doing here: completely lined my lids around the top and then worked a wing out, then smudged inward.
Smudged a bit of brown eyeliner next to the edges of my bottom lid as well and brought that out a little bit to have a slight "raccoon" look to my pretty harsh smokey eye.
I love this look, it just requires a lot of patience from me, and quite a lot more product than any of the other looks. Still, it's a smoky eye that's slightly less harsh because it's brown and not black, so I love the way it looks.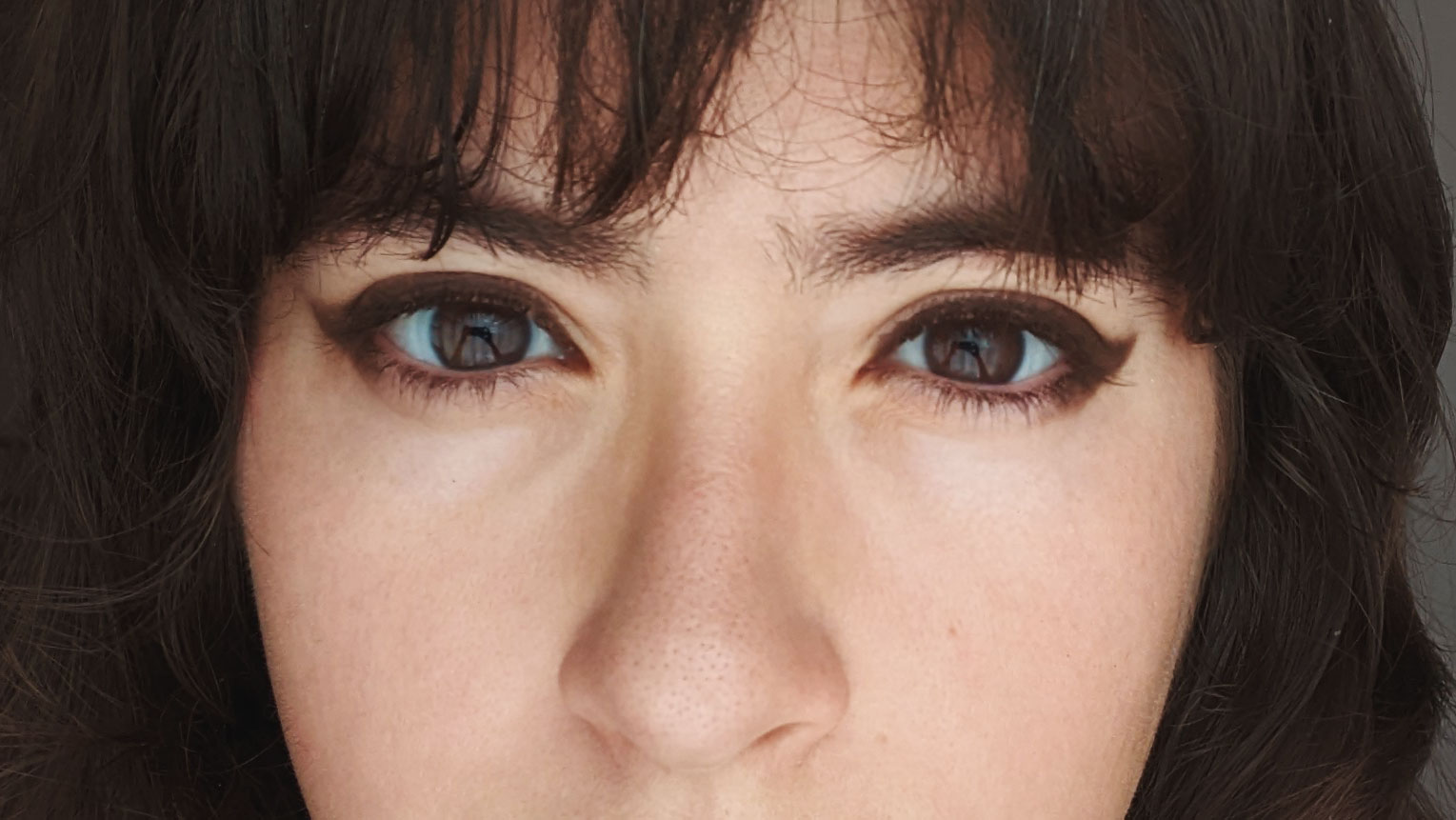 There's a lot you can do with just these two eyeliners alone, honestly, and the fact that the liners are brown rather than black makes the looks a lot more forgiving if you're a little off with them.
There's definitely a lot more looks I'll be trying, but for now, and probably forever honestly, these three will be staple looks for me in the eyeliner department.
Just something about brown liner that does it for me. I can't be the only one!