What Color Shoes to Wear With a Red Dress: 5 Excellent Options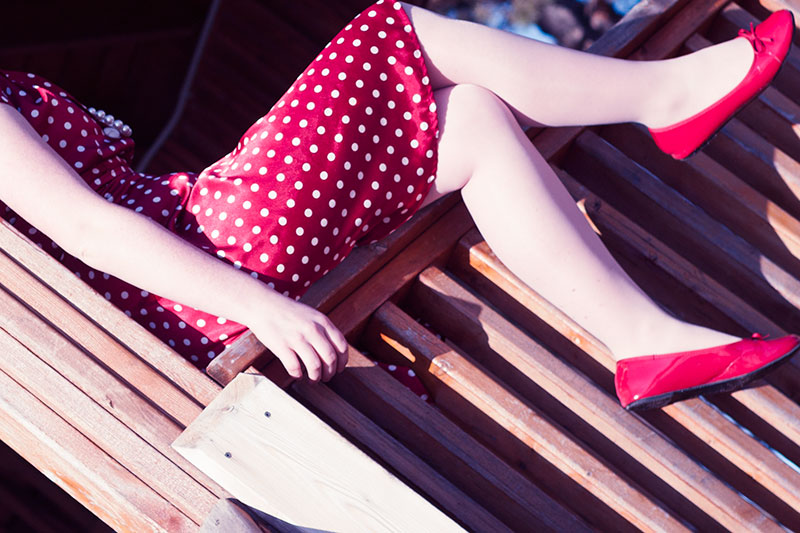 When it comes to pairing colours in any given outfit, there are usually so many viable options that personal preference will end up being a huge determining factor in what will win out.
One way this might factor into a decision is by ruling out colour options entirely. For instance, these days, I'm really not a fan of black shoes. There are exceptions to this rule - I love thigh-high black suede boots and I absolutely adore chunky combat boots in a glossy black - but the standard black shoe, whether it's a heel or a flat, doesn't typically appeal to me anymore, so I'd probably rule that out off the bat on the basis that it feels (more than) a little overdone.
Another way your personal preference might work itself out in terms of the final colour pairing is in terms of the resulting style you'd prefer. Did you want your look to be classic and chic? Fun and flirty? Do you want your look to demand attention? Feel quite quirky? So many different ways you can go, and as a result, your colour choice may end up being completely different depending on what you prefer the end result vibe to be.
Keeping this in mind, let's go through a few different options. I'll do my best to explain where I feel certain colours shine (which type of shoe, for instance, suit a certain colour best), so you have a good sense of what you'd like to grab to pair with that gorgeous red dress of yours.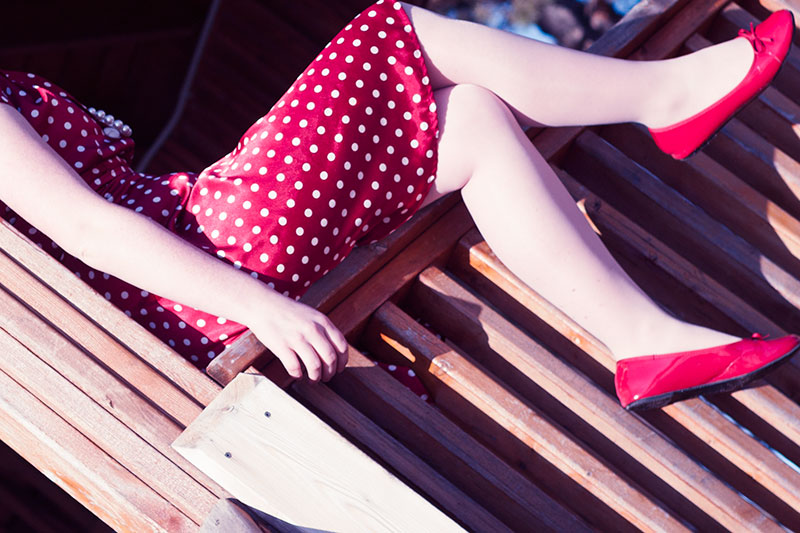 5 Shoe Colour Options That Match Well With Red Dresses
Black Shoes
If you're not like me and really can't understand why anyone would bother to rule out a colour (or lack thereof) like black, that literally matches with every colour in existence and as such is an enormous fashion staple - ignore me completely and opt for the black shoes. It's true and a completely fair point that you really can't go wrong with black.
You can opt for so many different styles when it comes to black shoes, it's ridiculous, but if you want to visualize what the black and red combo might look like before you even bother to narrow down your black shoe options, I'd advise heading over to Pinterest to take a peek.
Typically I'll type exactly what I'm looking for into the search so I can better visualize the end look. In this case it's "red dress black shoes" since we want to see what that will look and feel like before committing, and if you like the overall, or even manage to find the perfect style of shoe in the bunch, go for it!
When it comes to black shoes paired with red dresses, you could easily go with a classic black pump, a stiletto heel, you can go for flats if you're going more casual, or if you'd like to transform your look into something more edgy, a black combat boot might do the trick.
Honestly, you cannot go wrong with black shoes you love, paired with literally any colour in your outfit - so long as you've got nothing against black shoes like I do. For those a bit tired of all the black like I am, let's skip to my absolute favourite option for red dresses, one I feel is simultaneously hyper-modern and classic...
Nude Shoes
I'm not even going to bother hazarding a description why this colour combination works before I take the time to show you what the pairing looks like on Pinterest. Isn't the red dress + nude shoe combinatino stunning?
There's no denying a red dress demands attention, and when a colour is that stunning, vibrant, and eye-catching, I feel like you do a disservice distracting from that center of attention by wearing shoes that draw the eye away from the dress.
The absolute best way to make sure the eye doesn't get drawn away? Having your shoes essentially disappear by in a sense having them camouflage into your skin.
Does this take away from your killer legs by making the eye ignore them? Abslutely the opposite. Especially if you opt for nude heels that match your skin colour to a "t." The end result is an illusion of elongation and super tall legs as the eye struggles to tell where your foot ends and where your shoes begin.
So it's a massive win. You look incredibly tall, your beautiful legs are accentuated, your dress gets to be the star of the show, snagging the attention, the colour pairing is perfect, and you somehow manage to look classic chic as well as hyper modern all at once. I love it to bits.
Haven't got any nude shoes or have a pair that doesn't quite suit the red dress you're wearing? Prefer another colour option that isn't black? Let's take a look at a few more colour pairings.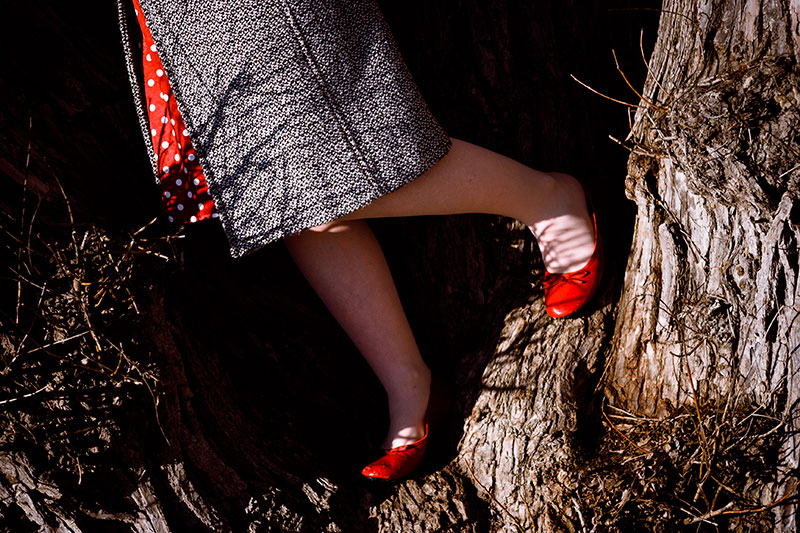 Red Shoes
There's nothing like matching the colour of your dress and the colour of your shoe exactly, but even if you have red shoes that are a different shade of red than your red dress happens to be, it's all good, the not-so-perfect match will probably look like it's done on purpose, so you didn't end up with a completely monochrome look.
If you're going for a super sexy, sultry look, I honestly think red heels matched nearly perfectly to the same shade as your red dress is the way to go. Don't see why? Have a look at these pins here to get a visual and maybe you'll see what I see.
There's something about the colour red that screams sensuality, and combining it with a red heel makes the eye concentrate on the colour even more. I'd say, while you don't get as much of a classic/chique vibe as with nude shoes, you do get more of a pop and a concentration on the colour when you pair red with red. I do really like this option.
Silver Shoes
Another viable option, in my opinion is silver. You may think I'm crazy for hating on black because it's overdone, but even if I eliminate all the black shoes in my wardrobe, it's still pretty easy for me to find colours and shades that will match with everything in my outfit.
One such shade is definitely silver, which is a stunning colour no matter how you look at it. It's got a bit of the vibe I feel nude has insofar as it's not highly distracting and blends into skin just a little bit if it's a similar shade to your skin colour, but it also matches everything because it has no colour, it's just a mix of black and white, which are two shades.
If you're more of a gold-toned human like I am, and you gravitate to warmer toned clothing as a result, you might want to try....
Gold Shoes
Gold shoes instead. Which honestly, are one of my favourite colour of shoes of all time. I usually opt for sandals with dresses in the summer.
That reflective gorgeousness on my foot by having a shoe in the gold hue means I feel like my shoes both demand a little attention, but also simultaneously give me that nude shoe vibe - elongating the look of my legs by blending into my skin colour and yet not distracting from whatever I happen to bewearing.
Do I really think they can match everything? Take a look at this line up of stunning gold shoes on pinterest and try imaginging any colour outfit on top. Yeah, I'd say they all match.
Any Colour That Matches Your Accessories, Colour Accents on the Dress, and/or Other Clothes You're Wearing
If you're wearing accessories like a purse or jewlery that happen to be colour co-ordinated and you want to make that accent colour pop, you can opt to wear shoes that are in that accent colour.
Or if you have an accent colour on the dress you're wearing already, like little white dots or a white gingham pattern, you can opt to pair that accent colour by chosing it as your shoe colour.
Think about your completed look. Will you be wearing a jacket, a sweater? Will you be wearing stockings or socks? What colour and shade will those be in? Do you think the outfit will look nice having more of that colour? If so, add more of it to your outfit by choosing the same colour for your shoes.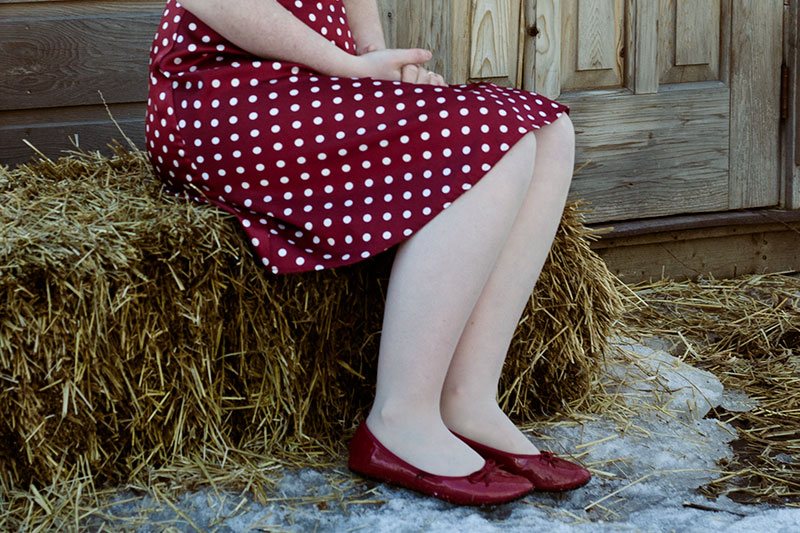 Your Thoughts on What Color Shoes to Wear With a Red Dress?
Now it's your turn - do you have a preference between the options I listed when it comes to pairing red dresses with the perfect colour shoe?
Do you have another colour that didn't make it to this list that you think would work out for most, if not all, red dresses?
How do you think styling factors into the colour choice? What about the style of shoe?
And if you stumbled across this article looking for suggestions because you're trying to pair your red dress with the perfect shoe colour right now, which colour shoe did you opt to grab?
Love to hear your thoughts in the comments below!